Robotic waiter service uses Kinect to see
Customise your droid
We've already seen Microsoft's Xbox Kinect used as the eyes for a robot, but here it is again, in a device offered commercially.
Say hello to the TurtleBot, a robotic assistant that can be customised to perform a whole array of tasks.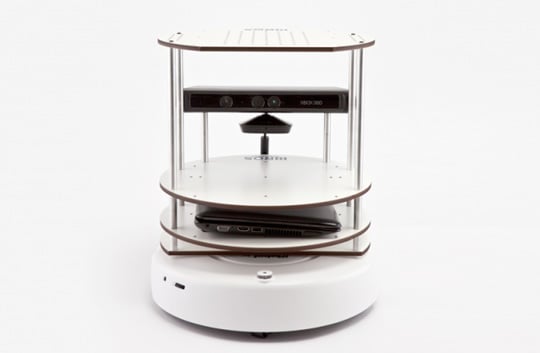 The Bot can act as a waiter, moving edibles from one room to another. It also takes panoramic shots and builds 3D models of your home. However the selling point for hobbyists and developers is its ability to be fully programmed, making the TurtleBot a fairly inexpensive option in personal robot ownership. Here's a video of it in action.
The kit comes with an SDK that integrates the hardware drivers with developer tools and capabilities such as autonomous navigation. Users can develop apps and share them with one another online.
Personal-robotics wizard Willow Garage is now accepting pre-orders for the TurtleBot, which comes with a Kinect, an Asus Eee laptop and all the necessary software and hardware. The full kit will set you back $1200 (£725). Bakery food will cost extra. ®
COMMENTS
Re: Hmmm
Not a problem, just put an armoured shell on it and add weapons for defence.
I'd call it a Defensively Adept Laptop Enhanced Kinect meself.......
That looks nothing like my living room
Let's see it navigate a room with books and shoes and cats strewn all over the place. Then I'll be impressed.
Most excitingly
Most excitingly of all, that looks like a lardy cake on the tray next to the muffin.
I haven't seen a lardy cake for years!
Roomba?
Is that a white Roomba at the bottom of it ?
Was it just me...
... or did anyone else notice the K9 Telephone Box in that dude's living room?