Dell refreshes Alienware laptops
Sandy Bridge upgrade
Dell has boosted its Alienware line-up with some fresh gaming-centric laptops, the M11x, M14x and M18x.
The Alienware M11x, which we covered last year, has been refreshed with Sandy Bridge processors and comes with 2nd-gen Core i5 or i7 CPUs, up to 16GB DDR3 RAM and either a 750GB HD or 256GB SSD. There's also the bonus of USB 3.0, WiMax capabilities and Klipsch speakers. Oh, and better hinges, apparently.
Sat in the middle is the Alienware M14x, which has similar spec to the M11x, but packs a 14in display and a 3GB graphics card. RAM only runs to 8GB, though.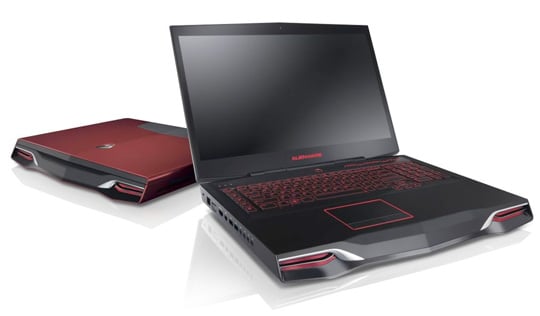 For those of you after something a tad bigger, there's the M18x which has an 18.4in 1080p display. This model comes with 2nd-gen Core i7 quad-core processors overclocked up to 4GHz, an interchangeable 4GB graphics card and up to 32GB DDR3 RAM. The heavy device also supports Wireless HD and 3D outputs.
The new Alienware M11x and M14x are out now with UK pricing starting at £900 and £1,100. The Alienware M18x is expected in a week's time and pricing is likely to start from around £1,700. ®
COMMENTS
Umm, you're not the market, then.
"Sure, the M11x has a meaty video card and therefore gaming potential which the ThinkPad does not, but £600 for gaming and some flashy LED's a bit of an excessive premium."
If you don't need a meaty video card, you don't need an Alienware box. Period. The whole point of them is that they've got meatier video cards than anyone else, so you can play the sorts of games you're normally stuck on a desktop for.
Meanwhile, if anyone has an 11" laptop with an even halfway-comparable graphics chip in it for substantially less than it, I'll accept that it's bad value for money (and probably go buy what you suggest). Although the fact that they're not a hell of a lot less in dollars to buy from the US site than they are in pounds from the UK one is a bit ridiculous.
Yes and no
There's no doubt Alienware lappies are overpriced - and I speak as someone who has bought two - however the warranty is great (I got 4 years and 3 years next-day onsite on the 2 we have), the build quality is excellent and you don't deal with the normal Dell support people.
I have had a video card changed on one machine due to a dodgy fan so I know the people I used for support weren't reading a script - basically emailed the guy a screenshot of the GPU temps and he phoned back about 20 minutes later to arrange the techs visit.
The desktops are stupidly priced given its pretty much standard parts in a flashy case.
We have the M17xR1 and M17xR2 (both with dual video cards - xfire on R2 and SLI on R1) and frankly they are very portable desktop replacements, they're not laptops. Use one as a laptop (literally) and your legs will go numb from the knees down and burn from the knees up :) I generally have mine on a desk with a couple of external monitors attached and the lappie screen as well.
The M11 is a notebook sized machine and is REALLY nice if you can live with the resolution. Its superb for FPS gamers but other games get badly hurt by the vertical resolution.
You're never going to buy these machines unless you ARE a gamer anyway. Yes there is potential for CUDA etc but if your needs are that way then you're unlikely to be using a laptop.
The hardware is undoubtably overpriced but the laptops are built to last - 5mm metal (magnesium alloy IIRC, who knows?) casing all the way round, good layout inside.
I think that even with the cost I'd recommend the laptops to friends and not be worried that it'd go tits up. Desktops are stupidly expensive for whats there.
you pay for respect ;)
Well i have an mx17 and i use it for work (!) mostly and sometimes for gaming. you have to see the faces of my customers when they see it, they all like it a lot and while i do get a bit labeled as a gamer, everybody shows admiration towards me and it.
i find that the hard edge that starts at 25% and 75% is a bit to hard when working a longer time. If you only use one hand, like in mass effect for instance it's fine, but they should have made that soft edge in the middle from the left to the right all the way. the LED screen you can order for your alienware is awesome, saturated colours and everything is fine except the vertical definition which is only 1080.
that being said, i'll definitely get alienware next time again(in two years is the next iteration for me), i'm happy to have the 3d thing and the ssd, those were really on my list.
And yeah mine is the one that looks like Sheldon's.
Got mine
Last year and still loving it. Althought the AlienFx software can be a bit flakey.
No longer called laptops.
Manufacturers call them notebook computers these days, mostly due to modern processors and roasted-testicle issues.