Smartphones eat games handhelds and cameras for lunch
Serial category killer?
As iPhones and other smartphone devices increase in popularity, their foothold in the mobile gaming market strengthens. This looks like bad news for traditional handheld options we generally associate Nintendo and Sony with.
Some suggest the iPhone could even have a negative impact to the point & shoot camera industry, as figures from Flickr show the iPhone 4 is on its way to becoming the world's most-used photography device. Could the Apple iPhone ruin consumer electronics as we know it?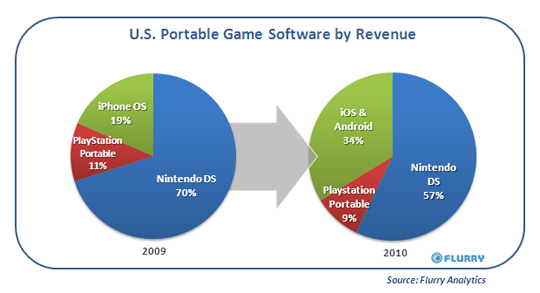 Research from Flurry Analytics compared US mobile gaming figures from 2009 to 2010. The dominance of Nintendo's DS took quite a pounding, but there was huge increase in iOS and Android game popularity, which now represents over a third of the total market.
That's hardly surprising considering the increase rate of smartphone ownership, even less so perhaps when you consider the handheld console market is in transitional phase between major releases, or at least, it was so in 2010.
But can Nintendo and Sony claw back their dominance with their latest attempts, the Nintendo 3DS and Sony NGP?
Michael Pachter, a games industry analyst at Wedbush Morgan, thinks not. He says the onslaught of $1 games is set to continue and the handheld big-boys will have to share the market.
While it may not have met initial expectations, Nintendo has been doing a decent job of selling its latest 3D handheld, setting record sales figures in the process. But how long can it continue?
Sony has already decided to stop production on the PSPGo. Perhaps this is in preparation of its forthcoming handheld the NGP, or maybe a response to the release of Sony Ericsson's Xperia Play, a PlayStation phone which clearly shows the company is aware of just where the money's at.
It isn't just the portable gaming market that smartphones are affecting, though.

The iPhone 4 is ready to overtake the Nikon D90 as the most popular photography device used on Flickr.
This is quite a feat when you consider the D90 is three-years-old already. Figures also show popularity of Point & Shoot cameras is in serious nosedive, on Flickr, at least, and with smartphone photography on the rise, it's clear who the culprit is.
This month, Cisco decided to drop its Flip HD handheld camcorder range too. Again, are smartphones to blame? And let's not forget the Cassandras who forecast the demise of specialist GPS devices at the hands of the smartphone makers.
Could this just be natural progression in the evolution of technology? Let us know your views below. ®