Pushing all the right buttons?
The twin touch-pads take some getting used to and, in truth, do little to improve upon virtual thumbsticks. That said, relieving the screen of directional controls and buttons provides a palpable advantage over traditional touchscreen-only gaming – N.O.V.A 2 and Modern Combat 2 were just two of the games that improved immeasurably in terms of playability when compared to their iPhone counterparts.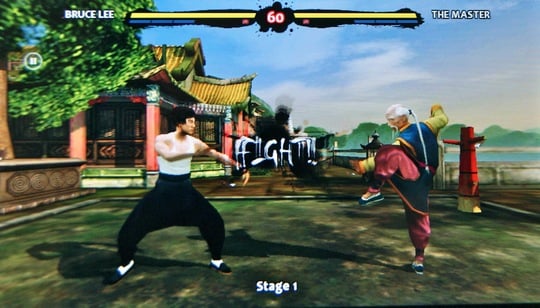 The Bruce Lee game is one of up to seven titles bundled with the handset
Even the otherwise poorly placed 3.5mm headphone socket makes sense when in gaming orientation, as the headphone lead drops comfortably beneath the unit. Yet, the design is not entirely flawless.
The power button, which doubles as the screen lock, is placed too near to the left trigger, which led to frustrating interruptions until I trained my finger to curl evasively over it. And the home and app screens are locked into portrait mode, so you need to swivel the opened unit to read icons comfortably.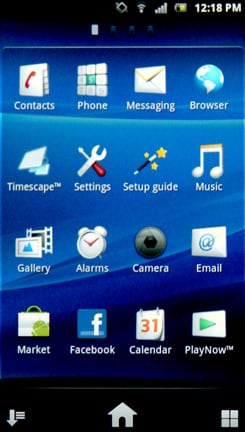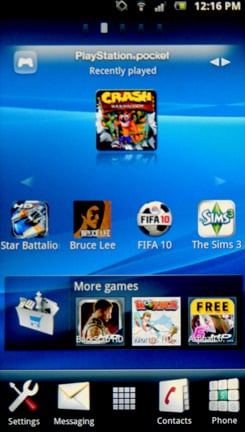 Apps homescreen and Gaming content options
The game browsing and buying experience also makes for uncomfortable reading. Fragmented into three apps: Xperia Play, Get Games and Playstation Pocket, the system will confuse even the most tech literate, and is in desperate need of streamlining.
Worse still, Sony is not imposing any standards on game controls, so the current crop of 'Xperia optimised' Android games have wildly different implementations, with many employing an unnecessary, bewildering mix of touchscreen and pad controls.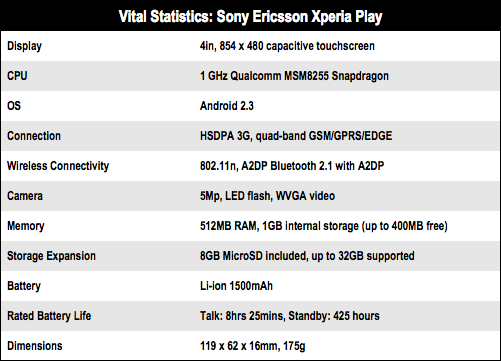 COMMENTS
65% it should be closer to 80%
65%? really?
Iv got one and love it. its a perfect mix of android and gaming. yes there are a few niggles: no hd video, no tv out, and the screen is a little dim. but thats about it.
The idea of having a joypad contected to a phone is genuis, and im surprised that its taken so long to do. You mention the bulk of the phone as if its a bad thing, but of course it will be bulky, all qwerty slide phones are bulky, and this is the same but with a joypad.
Im surprised you mention 22 hours of battery life as if it was a bad thing. My HTC Desire would manage 9 or 10 then die. Ive found the battery life to be excellant on this phone.
And how could you talk about the gaming aspect of this phone but not mention emulators? Android is awash with emulators for mega drives, snes and amiga and this phone really shines when used with these.
Im surprised that you guys didnt mention the lack of intrigration into the Playstation Network, as this is its major failing. There currantly is no connection between the phone and the psn. I expected it to be able to log into the psn, to download ps1 games, or use remote play, this is ment to be coming with playstation suite, but hasnt materlised yet.
all in all i think its a great phone. and a great return to form by sony erricson. especially since they got rid of the integrated media/timescap nonnsence. so id give it 80%
I agree with Mike
I had a play on one of these recently and thought it was great. OK, it's not a PSP, but it means I can play a 'proper' games console wherever I happen to have my phone. The buttons themselves are worth getting the device for as on-screen controls on such small displays are too intrusive.
WRT the portrait-only launcher, can this not be easily fixed with LauncherPro or the like (come on, I only got it for my San Francisco after reading a review on El Reg)? And as for the camera, I'm not aware of many people who expect quality pictures from a phonecam (though I suppose there's some that do).
My missus' phone is due an upgrade soon and I've already convinced her to have my San Francisco so I can have her Xperia Play!
Still, each to their own, I suppose. I also think 65% is a little low and would give the phone about 80-85% purely based on its potential.
hmmm
70%?
seems to do everything my £650 iphone 4 does and a whole lot more. for a fair bit less cash.
i have to charge my iphone nightly and i dont even use it much, plus unless you are playing very basic games like angry birds it is terrible for gaming. maybe its because im a gamer i can see how useless most touch screen games are.
@"However, the missing Bravia engine and HDMI output – or indeed, any TV-Out – are inexcusable, especially at this price point." - erm. my iphone 4 doesnt do this either. in fact its a ball ache to even send txts to more than a couple of people.
are el reg becoming one of iSteve's minions?
lucky bugger
"My missus' phone is due an upgrade soon and I've already convinced her to have my San Francisco so I can have her Xperia Play!"
your missus is worth her weight in gold. you'd do well to also hand over a bunch of roses and a big box of chocolates along with the San Francisco.
yes...
i read it. what i cant understand is the negatives being pointed out that a more expensive phone hasnt got.
i didnt pay for my iphone4. its ok, nice interface but crippled from doing anything useful on. certainly not worth anywhere near £650!