Music spending stops defying recession (and gravity)
We've run out of wrinklies who can reform
Despite a booming live concert and festival scene, consumer spending on music is down again, according to an economic analysis of "wallet share" - how much people actually fork out for the stuff.
Whether this is bad news or not as bad as it could be is a fascinating question.
According to Will Page, economist at the PRS (or as we must call it, PRSformusic), music spending defied the recession in 2008 and 2009, but dipped again last year. Overall music spending dipped from 0.38 per cent of total consumer spending in 1997 to 0.28 per cent last year. But the split between live and recorded purchases over this period was dramatic, and is best illustrated by this graph.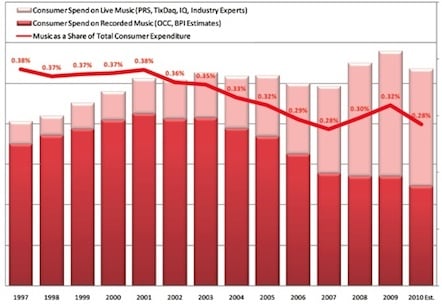 [Click for legend]
It's even more dramatic considering the time spent listening to recorded music in its many forms now – a proper analysis of which is long overdue.
Various factors have been proposed to explain the fall in recorded music spending. Supermarkets forced CD prices to fall; Apple and other digital services unbundled the CD, and consumers bought tracks they liked, rather than the full CD. But the risk-free acquisition of digital music without paying for it is hard to argue with, especially since live and recorded revenues previously had gone hand-in-hand, but have now diverged.
The overall wallet share fall in 2010 could be attributed to greedy promoters overmilking the market. Ticket prices have shot up, and bands play more dates than ever.
(Michael Jackson was booked in for 50 dates at the O2 Arena, before he died).
There are only so many festivals to go to. And there are only so many wrinkly old bands that can reform: a study in 2009 showed that it was the nostalgia circuit that benefitted the most from the live boom – snatching money from mid-level or new acts.
So back to the intriguing question: is this bad news, or could it have been worse? For music spending of any kind to grow in a recession must demonstrate the strength of the demand. Pay TV and gym memberships were cancelled when the credit crunch hit, but households still allocated money for music. That's a glass-half-full analysis. The pessimist (or realist) might respond that the music industry is unable to make much of this demand. Fifty-quid-a-week bloke has turned into 20-megabits-a-second bloke, who, while willing to pay, is spending his money elsewhere.
You can read the full paper here (six-page PDF/1.8 MB). ®
Sponsored: Minds Mastering Machines - Call for papers now open