NASA funds commercial Shuttle-replacement spaceships
Cheese capsule battles rivals for ISS ferry work
Don't know if it's ready to carry people – but one of these contenders has already carried a cheese into orbit
Next up is Sierra Nevada Corporation, offering its small "Dream Chaser" spaceplane which would lift off atop a normal rocket stack, dock with the space station using a hatch at the back between its engines, and subsequently re-enter to a runway landing like the space shuttle (or today's unmanned X-37B). SNC gets $80m to move the Dream Chaser closer to being reality.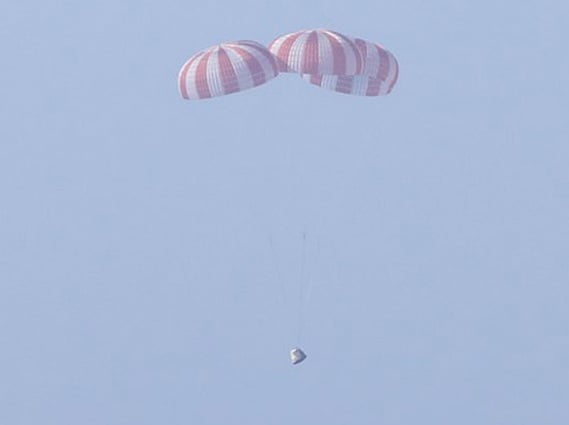 The SpaceX Dragon. Has already carried a large cheese into orbit and back without problems.
The biggest scorer in CCDev2 is arms'n'aerospace mammoth Boeing, which gets $92.3m. Boeing was beaten out by its rival Lockheed - the other superheavyweight remaining in the US aerospace sector following much consolidation – to build the official NASA crewed spaceship Orion. Orion was to be the centrepiece of an ambitious oldschool Apollo/Shuttle style effort which would have seen boots on the Moon once again, then on Mars, and made both Boeing and Lockheed and their joint rocketry ventures a lot of money on the way. The US Congress, however, declined to supply enough cash for that scheme and most of it has now been axed.
Orion itself lives on, though it is no longer clear what it will be used for or what rocket might send it into space. Meanwhile Boeing has decided to remain in the manned spaceship game via CCDev, offering its CST-100 capsule design. This could go into space atop any capable rocket and serve the space station or other markets such as full-fat orbital space tourism (a preliminary deal has been inked) or the inflatable space habitats planned by former Vegas real-estate kingpin Robert Bigelow.
Perhaps the most interesting of the CCDev2 recipients is SpaceX, the famous upstart rocket firm started by PayPal hecamillionaire Elon Musk. SpaceX, unlike the other companies, is not merely offering a manned spacecraft to fit atop a rocket from someone else - most probably one from the existing Boeing/Lockheed dominated rocket industry.
Musk and his team have their own rockets, designed from scratch, unlike the recycled Apollo and Shuttle tech offered for the manned space requirement so far. The company also has its Dragon re-usable capsule, intended to go into unmanned service shortly delivering supplies to the ISS. The initial Dragon test flight carried only a large cheese, but it seems to have shown that the capsule works fine.
SpaceX has always said that Dragon and its Falcon 9 launch rocket are intended for manned operations too – and the company is offering Falcon lift at well under half the price demanded by its competitors.
If NASA accepts that the Falcon 9 and Dragon are OK for astronaut work – and its award of $75m to Musk today would seem to indicate that this is a real possibility – SpaceX ought to be the front-runner on grounds of cost and of having hardware pretty much ready to go right now. None of the other CCDev ships is even built yet, let alone flown.
That said, it's entirely possible that NASA will choose to use Falcon 9 to lift someone else's capsule. Boeing have actually stated that the CST-100 could fly on Falcon 9 if required: funnily enough Musk has never suggested that Dragon might lift off aboard a rocket from United Launch Alliance.
Everything's plainly still to play for in the CCDev game. Probably the next things to watch will be this year's three planned Falcon 9/Dragon flights. If these go smoothly, Musk and SpaceX will be in a very strong position. ®