HP quietly revamps ProLiant SL hyperscale servers
'We don't beat our chest'
Super-computing interest
The SL390s G7 is a half-width tray server that supports either Xeon 5500 or Xeon 5600 processors. It has a dozen memory sockets, for a top-end 192GB of capacity using 16GB DDR3 memory sticks. This tray server comes in three different heights: 1U, 2U, and 4U. The different heights allow for different peripherals to be added to the tray. The 1U tray has one expansion slot and room for two 3.5-inch drives or four 2.5-inch drives.
The 2U tray has four expansion slots and room for six 2.5-inch drives, while the 4U tray has nine slots and space for eight 2.5-inch drives. A mix of hot plug and plain vanilla drives are supported on the SL390s G7 tray server. The server has two Gigabit Ethernet ports and a ConnectX-2 controller that can be configured as two 10 Gigabit Ethernet, two QDR InfiniBand ports, or one of each.
The SL390s G7 will be interesting for supercomputing customers because the 4U high tray supports up to eight GPU co-processors per server node, giving a more than perfect balance of two GPUs per CPU socket and without needing any I/O hubs. At the moment, HP is only supporting the M2050 and M2070 fanless GPUs in the 4U tray; AMD's FireStream GPUs are still not getting any love here.
The higher tray server will also pique the interest of shops running Hadoop to crunch big data, since they typically want more than six disk drives to balance data, I/O, and compute. It would be best if the tray server could support a dozen drives on a dozen core server, but nine drives might be close enough for some.
The 2U variant can house three GPU co-processors, but you have to add a second I/O hub and the GPUs have to share I/O talking back to the CPUs. The 1U model, with the ConnectX-2 integrated 10 Gigabit Ethernet/QDR InfiniBand adapters will be of interest to shops that want "fast fabrics" for clusters, says Keels.
The SL390s G7 is available in HP's online configurators, and prices range from a low of $2,239 for a server node in a 2U tray using a single quad core Xeon E5620 with 6GB of memory to $7,699 for a 4U tray with two Xeon X5672s and 24GB of memory.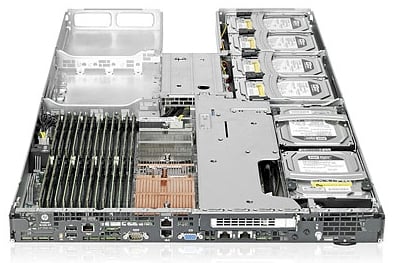 The ProLiant SL165s G7 server
On the Opteron front, the ProLiant SL165s is based on AMD's Opteron 6100s, in either eight-core or twelve-core variants. It has two processor sockets and up to 24 DDR3 memory slots, supporting a maximum of 256GB of main memory. The 1U full-width tray has two Gigabit Ethernet ports and two I/O expansion slots. It has room for six 3.5-inch or ten 2.5-inch storage devices and uses the LO100 controller (which you would think would make it a G6, not a G7 machine, based on what Keels said). The mobo used in the machine has an integrate SATA RAID controller.
The base SL165s G7 tray server comes with a single eight-core Opteron 6128 running at 2GHz and 8GB of memory. Cranking the CPU up to a 2.4GHz Opteron 6136 and doubling the memory to 16GB bumps the price up to $2,305. With two twelve-core Opteron 6176 processors and 32GB of memory, you're talking $5,445.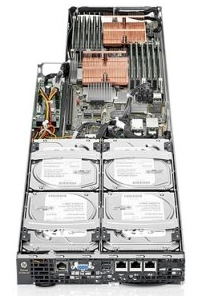 The ProLiant SL335s G7 server
Finally, there's the SL335s G7 server, which is based on the entry Opteron 4100 processors for single- and dual-socket machines. The machine has a dozen memory slots per server node, which means you can top out at 96GB using 8GB sticks. But with 16GB sticks, you can only put eight memory modules in the server because the memory controller on the Opteron 4100 processor tops out at 128GB for a two-socket machine.
The SL335s G7 server tray has a single PCI-Express slot, a Gigabit Ethernet controller, and a built-in SATA RAID controller. The 1U half width tray has room for four 3.5-inch or eight 2.5-inch storage devices. The ILO 3 controller is plugged into the system board, too.
Pricing information on the SL335s G7 is not out yet.
All four server nodes support Windows, Red Hat and SUSE Linux, and Oracle Solaris. ®
Sponsored: Minds Mastering Machines - Call for papers now open