EMC Avamar gets jiggy wit Data Domain
Let's dedupe together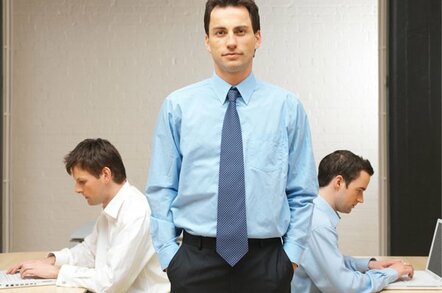 EMC's 6.0 release of Avamar protects virtual machines faster and can use a boosted central Data Domain data store, as well as Avamar's own Data Store (now doubled in capacity).
EMC says Avamar provides the first integration with Data Domain, implying that more is coming.
In an ideal world users might wish to have a single central data store for all distributed client backups. And maybe this is EMC's intention with Avamar Data Store functionality being added to a Data Domain target - at some point.
Avamar software deduplicates data files at source, before they are sent across network links to a central Data Store.
DD Boost
Traditional deduplication systems are treated as targets and deduce data files as they land on the system (in-line deduplication such as Data Domain) or after they land (post-process).
Data Domain gets a speed boost for its deduplication by using a Symantec backup server do some deducing of the backup files it sends to a Data Domain system: this is called DD Boost.
Avamar 6.0 can use this technique when it sends data to a Data Domain system because DD Boost is embedded in Avamar clients on a per-policy basis.
Avamar 6.0 can use embedded DD Boost for the backup of Exchange, Oracle, SharePoint, SQL Server, and VMware images to Data Domain targets.
According to EMC this provides "enhanced performance for larger streaming loads, such as full database backups or restores, while still minimising client/server bandwidth".
VMware integration
VMware image backup has been improved; Avamar fully uses vStorage APIs and is integrated with vCenter so as to support changed block tracking. This provides faster backup and also recovery.
The tighter VMware integration means Avamar now supports virtual server proxy pooling and this makes backups faster. There are also more flexible image restore options which, EMC says, simplifies recovery.
EMC says this helps Avamar provide up to three times the backup performance of its nearest competitor when backing up VMware virtual images. It doesn't say who that competitor is.
Avamar's own central Data Store has had its usable capacity more than doubled to 124TB. In comparison, a DD890 target holds up to 285TB of usable capacity.
Users can send backups of DD Boost-supported applications to a Data Domain target with other app backups going to the Avamar Data Store to maximise the overall backup capacity and speed of Avamar clients.
Avamar v6.0 is available now. ®
Sponsored: Minds Mastering Machines - Call for papers now open