Whatever happened to ... website-blocking?
Hunt received Code months ago, and stalled
"I wanted to know if the government was aware of the beneficial effects that digital response has had in the South Korean industry, too, which is particularly relevant because it has the faster internet speeds and can easily trade film files as well as music files. Since they implemented graduated response its creative industries have put on 10 per cent to 15 per cent year on year."
Hunt didn't sound terribly convinced.
"Yes, but the other point I would make is that there may be other ways to do this," he replied. Like "making it harder to find those sites on search engines like Google ... It is now much harder to find many of those sites than it has been before, but I am sure there is much more work that can be done."
So Google is expected to do much more than it already does. Google already manually intervenes in shaping its search results – it no longer maintains the fiction that "it's the computer what did it" – and even allows the public to select rankings; it can hardly complain.
Google also warns people away from sites it disapproves of, beginning with malware.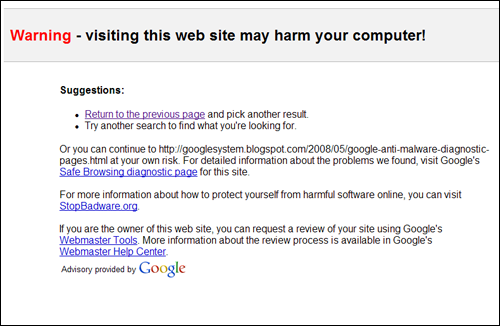 Google received a roasting from elected representatives in a hearing on "parasites" in Congress last week: Florida Rep Debbie Wasserman-Schultz joked that Google seemed happy to take credit for "overthrowing the head of a country in a weekend", but strangely unable to de-list pirates' sites.
Google says it's reluctant to be "judge, jury and executioner" of pirates. But it is already "judge, jury and executioner" of thousands of sites a month – including (ahem) business rivals.
It may be preferable to selective tinkering with the domain name system – something nobody really wants. ®
Bootnote
The Google-supported "Stop Badware" rogues gallery of the baddest sites on the web does have an interesting entry at No 6. Click to enlarge:

[click to enlarge]
Sponsored: Minds Mastering Machines - Call for papers now open