Obama gets personal V-22 Osprey tiltrotor
Plane-copter combocraft take on 'Marine One' role
Can you really fold one of these things up into a transport plane?
On the other hand, the Osprey is a lot harder on its landing pads than normal choppers are. The comparatively small prop discs are heavily loaded when it is flying as a helicopter – in other words they are blasting air harder than choppers normally do – and the super-hot jet exhausts point straight down in this situation, unlike those of a normal copter.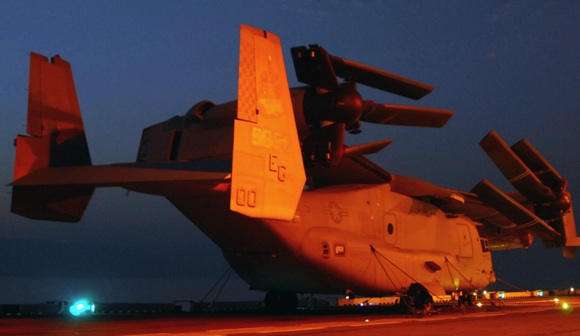 It does fold up ... kind of
The exhausts are officially acknowledged as being so hot that they warp and buckle the steel flight decks of US warships, and the Osprey's downblast is known to be fierce indeed. An Osprey landing in a park as part of Memorial Day festivities last year scattered spectators like ninepins, hurling some of them as much as 30 feet.
The Osprey would probably be highly unpopular with the White House gardeners should it replace the Sea King, then, and aviation-industry sources have also suggested to the Reg that the Osprey would struggle in the matter of being shipped around the world to accompany the president, as his personal choppers are required to be. The present Sea Kings and Blackhawks are folded up and put into massive C-17 or C-5 transport planes which follow Air Force One, but this could be a laborious business with the complicated Osprey – much though it is designed for shipborne operations, and as such its wings do fold up.
All in all it seems probable that the main Marine One task will be taken on by something a little more conventional. But following yesterday's reports, it is also clear that at least some V-22s will soon be painted in presidential livery. ®
Bootnote
*The Royal Navy Merlin can't achieve a hover with a full combat load, meaning that it has to roll forwards to take off (or get its carrying ship to do so). The RAF cargo-carrying variant carries only 4 tons, less than a smaller Blackhawk can manage.
Sponsored: Minds Mastering Machines - Call for papers now open