Russian Vostok capsule sells for $2.9m
Big bucks for big piece of space history
A Vostok capsule identical to the one in which Yuri Gagarin became the first man in space sold at auction yesterday for $2.9m.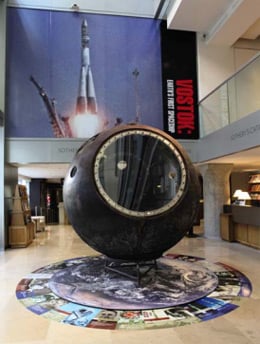 On 23 March 1961, the Vostok 3KA-2 (pictured) carried the life-sized mannequin Ivan Ivanovich and the dog Zvezdochka ("Little Star") on a 115-minute space flight which ended succesfully with touchdown near the city of Izhevsk in the Western Urals.
This final "dress rehearsal" assured Soviet scientists that it was safe to send Gagarin aloft, and on 12 April, the cosmonaut strapped into the Vostok 3KA-3, later renamed Vostok 1, for his flight into history.
On the 50th anniversary of that famous trip, the 3KA-2 went under the hammer at Sotheby's in New York. Evgeny Yurchenko, chairman of the investment fund AS Popov, made the winning bid of $2,882,500.
According to a Sotheby's statement (two-page PDF/69.6 KB), Yurchenko said: "The Vostok 3KA-2 space capsule is a historic artefact of the Soviet space programme. Its successful return to Earth from space gave the green light for Gagarin's spectacular achievement.
"Until now, the Vostok 3KA-2 space capsule was the only one of its kind outside of Russia, and with the support and participation of Sotheby's I will be able to bring it home. I hope that Vostok will take its rightful place in one of the national museums devoted to the history of the formation of the Russian space programme."
The unnamed seller of the substantial piece of space memorabilia apparently acquired it from the Russians some years ago. For his 2.9 million bucks, Yurchenko now has a 7.26ft diameter (2.3 metre) aluminium alloy spherical capsule, missing both the original operations and parachute hatches, as well as all of its internal fittings except the mannequin's chair.
Coincidentally, the Ivan Ivanovich dummy was also auctioned at Sotheby's New York tentacle in 1993, and now lives at the Smithsonian National Air & Space Museum. ®
Bootnote
Gagarin's Vostok 1 is on display at RKK Energiya Museum outside Moscow: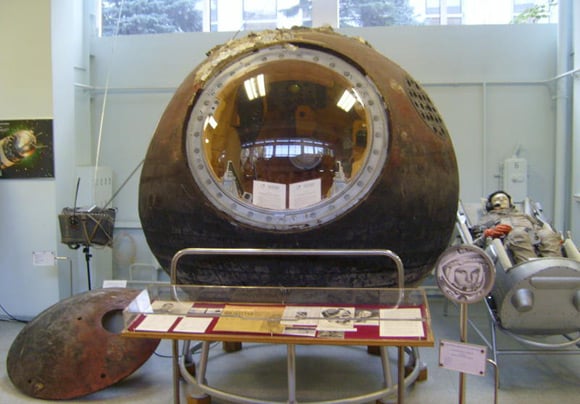 Sponsored: Minds Mastering Machines - Call for papers now open