H2O water-powered shower radio
Pump out the volume
Piped music
While it pains me to say so, the H2O is unfortunately not eco-perfection. Horizontal shower connections (such as branching off taps) may not be suitable. I tried the H2O on my brother's shower, and while it screwed in just fine, a rough crackle was the best sound it would manage. Still, such setups are not especially common and any shower with a vertical outlet should produce the required pressure just fine.

Yet it's the quality of reception that's the real glaring, annoying clanger. Unlike standard radio sets that can be placed in a favourable spot, with extendable aerials for further accuracy, the H2O is, unfortunately, clamped in one spot. If radio reception is shoddy in your shower, then it's a hissy, crackly wash for you. Out of frustration, I customised my H2O with a wire coat-hanger – hardly an elegant or especially satisfying solution – yet it did provide a significantly better signal.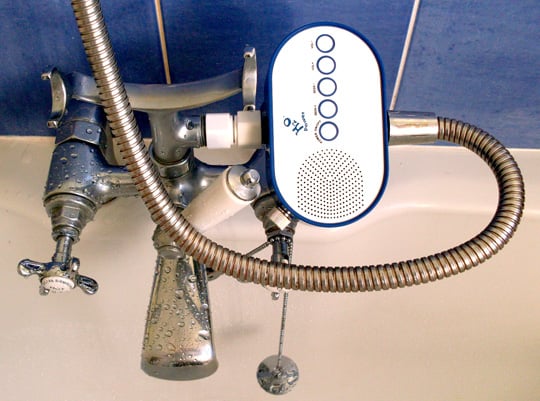 Even the most convoluted of plumbing can accommodate the H2O, but the pressure might not be sufficient
So the H2O is conceptually excellent. It is British too, and the eco-outlook make you want it to succeed. At 35 quid it certainly won't break the bank, but you could end up, bizarrely, giving it away to someone whose shower cubicle offers better reception.
Verdict
Hopefully an H2O mark 2, complete with small retractable aerial, will appear sooner rather than later. I appreciate it may look marginally less neat and tidy, but there's only so much radio fuzz one can take. Anything else? DAB would be lovely (but power hungry, alas), MP3 even better.
More Eco-Friendly Gear Reviews...

Nokia
DC-14
Scosche
Solbat2
Etón
Soulra
Vexia
Econav 480
Solar
Freeloader Pico
Sponsored: Minds Mastering Machines - Call for papers now open

H2O water-powered shower radio
Futuristic British-designed radio that utilises shower water pressure to power it.