NASA hangs bunting for shuttle anniversary
30 years since Columbia first took to the skies
NASA is gearing up to celebrate the 30th anniversary of the first shuttle launch later today at Kennedy Space Center, and administrator Charles Bolden will take centre stage to announce just where the surviving orbiters will finally be put on public display.
The festivities kick off at 17:00 GMT (13:00 EDT), and you can catch the action live on NASA TV. Bolden and Kennedy Center head honcho Bob Cabana will "honor the shuttle work force's dedication, which has made it possible for NASA to take the next steps in exploration and retire the shuttle fleet later this year".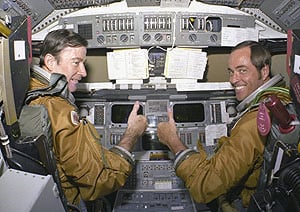 On 12 April, 1981, Columbia took to skies from Kennedy's launch pad 39A, carrying commander John Young and pilot Robert Crippen (pictured left and right). The latter said of the "enormous jolt" at lift-off: "There was no doubt you were headed someplace. It was a nice kick in the pants."
The two-day trip was to "demonstrate safe launch into orbit and safe return of the orbiter and crew", and "verify the combined performance of the entire shuttle vehicle – orbiter, solid rocket boosters and external tank".
Columbia was lost in 2003, 17 years after the 1986 Challenger disaster.
It was left to Atlantis, Discovery and Endeavour to wrap the 30-year shuttle programme, and with its end in sight NASA invited "educational institutions, science museums, and other appropriate organizations" able to pay the $28.8m delivery charge to pitch to give a retired orbiter a home.
Discovery bowed out on 9 March this year, when it touched down at the end of its 39th mission – a 13-day trip to the International Space Station.
Endeavour's swansong STS-134 mission is slated to blast off on 29 April. It will carry the Alpha Magnetic Spectrometer to the ISS. NASA hopes the shuttle programme's climactic moment won't come until 28 June, with the launch of Atlantis on STS-135.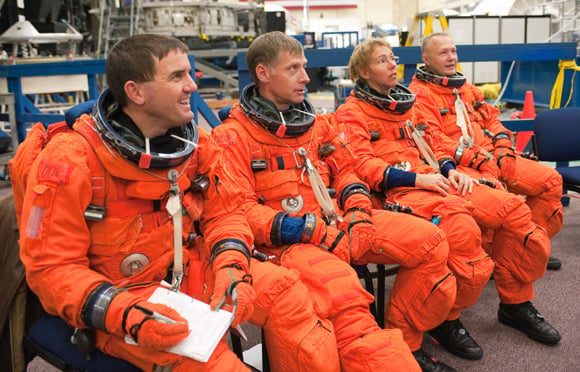 If it goes ahead, the mission will deliver the Raffaello multipurpose logistics module to the ISS, packed with "supplies, logistics and spare parts". On board will be (pictured from left to right, above) Rex Walheim, commander Chris Ferguson, Sandy Magnus and pilot Doug Hurley. ®
Sponsored: RAID: End of an era?