Upgrade-hungry office drones ponder PC prangs
Shame they never actually start smashing...
Want a new work computer? Wait until the boss isn't looking then take a hammer to the one you have now.
That's what rather a lot of UK wage slaves feel they have to do to get an upgrade. Others consider flogging it second-hand and using the money made to buy a new machine.
So claims online back-up company Mozy - you can see where it's going with this one - after paying a research company to question 3000 office workers in the UK, France and Germany about the kit they're forced to use.
The average age of an office PC in Blighty is apparently five years, compared to two years and seven months for their German equivalents.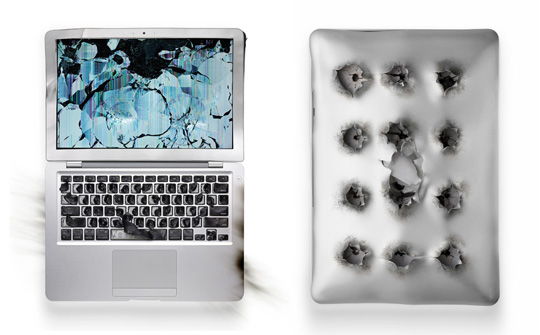 Germany is the most thriving economy in Europe, if not the world, but whether that's the result of its office workers having more up-to-date kit, or the reason why they all have relatively new machines, is impossible to say.
We can say that 25 per cent of respondents blame the economic downturn for a slowdown in office tech upgrades, and no one would be at all surprised about that.
Some 40 per cent of those surveyed have a home machine that was more recently purchased than their office computer, and folk in such a situation are more than twice as likely to ponder pushing the thing onto the floor in order to persuade the powers that be to buy a new one.
French workers are more likely to think about such a course of action that we Brits. Remember: 'sabotage' is a French coining.
Still, all this talk of smahing computers is merely idle daydreaming. Mozy didn't provide any indication as to how many respondents said they have actually damaged a machine in order to get an upgrade, a sure sign almost no one actually has. ®
Bootnote
If yoy do want to try breaking your machine in the hope of gaining a better one, check out our feature How to Kill Your Computer. Remember, breakages must be paid for...
COMMENTS
Little of both
"Germany is the most thriving economy in Europe, if not the world, but whether that's the result of its office workers having more up-to-date kit, or the reason why they all have relatively new machines, is impossible to say."
Having worked there a few years ago with an SGI workstation on my desk, I'd say German workers are generally better equipped (and educated) to be more productive.
Too many accountants and not enough engineers in the UK.
Hard to see why upgrades are needed
In an office environment most workers don't need much to do their jobs (note: need, not want or would like) just basic office tools, some security stuff to slow it down a bit and a nice screensaver. That's pretty much it. They don't need to play 3D/HD video, games or have a private universe in their office.
It's really only in the home, where media and games playing is big that the need for speed arises. So it's not too surprising that people's home kit is more recent than their work computer. The work machine is good enough as it stands. You could even argue that a low-spec, low-power PC at work is more environmentally responsible than having the latest multi-cored monster with a gigahertz video card: either in power consumption terms, or by lowering materials use by not buying unnecessary replacements,.
Of course if you do feel the need to be spiteful towards your employer, there are much more subtle ways of getting a replacement PC than taking a hammer to it ...
VS..
Development is always going to be an exception, as is anyone who deals with large files.
Most people arent in those categories though.
Depends what you do with it
As a dev (Business Intelligence), I use a snappy machine. There's nothing worse than running demanding applications on a machine that can't cope. At any time I might have SQL Server, SSIS, a dozen spreadsheets and word docs plus a couple of remote desktop connections and goodness knows how many peripheral apps running. My brain may feel like it's going to implode, but as long as my machine can cope then that's one less thing to worry about.
The directors on the other hand have nice light acer netbooks because they write reports, emails and use spreadsheets. So it comes down to what you use it for, but I won't need an upgrade any time soon.
Why do I need a title to reply to a post?
Sorry, don't agree. The original poster said 'most workers', and he's right. Most workers don't use the Gimp, work with Excel pivot tables nor use Visual Studio. Most workers mainly use Outlook/Excel and Word in a fairly simple way. My organisation has a lot of kit around 7 to 10 years old, and it works just fine, thank you, even with Office 2007. We have more pressing things to spend our money on. If someone needs a more powerful machine, they get it, but the emphasis is on 'needs'.