Nokia gets touchy-feely with two new Symbians
A brilliant business QWERTY, and a Gothic nightmare...
Echo, echo, echo...
There are strong design echoes of this Siemens phone – which was also a Symbian device ... and was not a great success. Although that keypad can't have helped, there.
"There's nothing like it on the market," Nokia said today, referring to the X7. "There are whole swathes of black boxes out there with touch screens." But the X7's styling isn't special enough to stand-out, and is likely to repel as many potential customers as it attracts, while the software lets it down. How Nokia thinks it can command a premium pricing of €380 is beyond me.
Both are due in Q2, the E6 with a price of €340.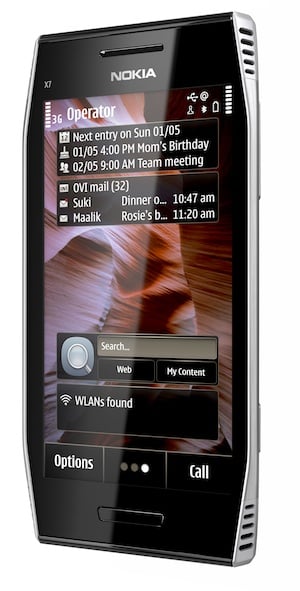 The new 'Anna' release of Symbian sees another new icon set, also from Nokia's London design team, in the now increasingly deserted Great Pulteney Street complex.
This one reduces all the previously distinctive shapes to a lozenge-shape, and looks very similar to the new Ubuntu Unity Dock. On the 4-inch X7 screen they're gigantic. The major criticisms of the previous design is that they were toy-like and didn't differentiate between folders and applications. The new set doesn't do anything to address either criticism.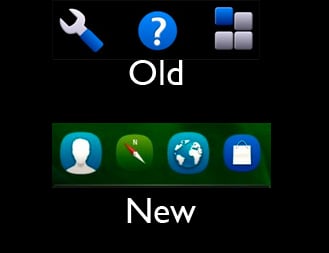 You are in a twisty grid of icons... all alike
Other changes include a portrait QWERTY keyboard (a huge omission from earlier touchscreens), and the ability to see what you're typing in context. Previously, you couldn't – so if you were typing a CAPTCHA you had to cancel the text you had input and find a piece of paper to write it down on. Anna also has a slightly improved web browser, based on existing code. It certainly feels fast and usable, although a little sensitive to the touch.
The changes will be rolled out to existing N8, C7, C6-01 and E7 customers as promised.

Alas, the new corporate font wasn't ready in time. It will be rolled out across the new phones (and investor relations statements) throughout 2011, we're told. ®
Sponsored: Minds Mastering Machines - Call for papers now open