HP juices desktop and mobile workstations
1 billion colors, no waiting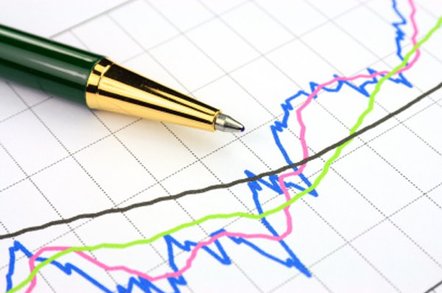 HP has rolled out a new spate of workstation-class machines: two desktops and three laptops designed for video and audio pros.
At this week's National Association of Broadcasters (NAB) show in Las Vegas, Nevada, the company also seized the opportunity to flog its self-calibrating DreamColor display systems, designed for the color-critical work performed by such worthies as animators and film editors.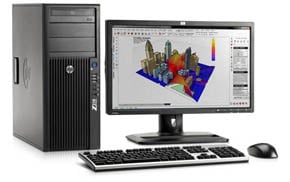 HP Z210 CMT workstation (click to enlarge)
The new workstation pair provide an entry-level foot in the door to HP's Z-series workstation line. Dubbed the HP Z210 Workstations, they're available in two models: Convertible Minitower (CMT) and Small Form Factor (SFF), as were the comparable models in the Z200 line, for which the new machines are upgrades.
"Entry level workstation [is] a critical part of our portfolio in that it provides the PC-like price points but gives customers the workstation value proposition that's really specifically designed for customers that are doing entry-level CAD and engineering or architecture," HP workstations product marketing manager Josh Peterson told reporters when briefing them on the Z210s.
"They're maybe doing video editing in Adobe Premier or Adobe Creative Suite," he continued. "They're very popular among our education accounts, whether it's engineering colleges or art-institute colleges where they're teaching engineering applications or digital media and entertainment type applications."
The Z210 line is based on Intel's new C206 chipset, which Peterson said qualifies it as a "true workstation value proposition with a workstation architecture." Both Z210s can be equipped with a 3.1GHz or 3.3GHz Intel Core i3 or i5 processor, or 3.4GHz i7 processors.
Moving further up the processor-power ladder, you can also choose a 3.1GHz, 3.2GHz, 3.3GHz, 3.4GHz, or 3.5GHz processor from the Xeon E3-12XX line. You can also choose either ECC or non-ECC memory of up to 32GB – when 8GB ECC DIMMs become available for that option.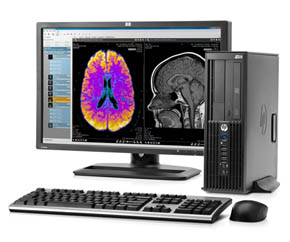 HP Z210 SFF workstation (click to enlarge)
The new architecture, said Peterson, will provide the Z210 with "over 20 per cent better performance at lower prices than we had on the previous generation." The Z210 CMT starts at $659 and the SFF starts at $569, with both available now in the US. Availability in Europe and elsewhere was not announced.
You can also choose a broad range of graphics configs, including Intel HD Graphics 2000 for the Core processors or HD Graphics P3000 for the 3.1GHz Xeon E3-1225 variant. For 2D graphcis, you can choose among the AMD FirePro 2270, Nvidia Quadro NVS 295, or Nvidia NVS 300 cards. Single or dual graphics cards are supported. For what HP calls "Entry 3D," you can pick an ATI FirePro V3800, Nvidia Quadro 400, or Nvidia.
HP's definition of "Mid-range 3D" cards – the ATI FirePro V4800, ATI FirePro V5800, Nvidia Quadro 2000, or Nvidia Quadro 4000 – are available for the CMT version only, and you're on your own for picking up that Quadro 4000. The 4000 card is supported, but it will not ship with the machines.
The CMT provides five PCIe Gen2 slots of various flavors, plus two PCI slots. The SFF includes three PCIe slots and one PCI slot. The CMT also out-ports the SFF, with a wider array of configurations including optional FireWire 400 and USB 3.0 ports.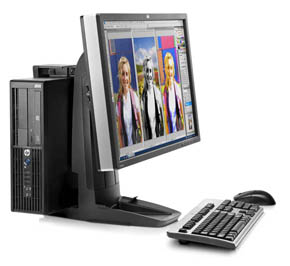 If you're short on space... (click to enlarge)
As might be guessed, the larger CMT has more drive bays as well: three external 5.25-inch bays and three internal 3.5-inch HDD bays to the SFF's one internal 3.5-inch bay (and one shared with an external 3.5-inch bay) plus one external 5.25-inch bay.
Other options include an HP Blu-ray Writer, 22-in-1 media card reader, HP Thin USB Powered Speakers, and on the CMT, a Creative X-Fi Titanium PCIe Audio Card. Both Z210s also include Intel's vPro management capabilities on all but the Core i3 models, and have 90 per cent efficient power supplies, with the CMT's providing 400 watts and the SFF's providing 240.
The SFF does have one advantage over the CMT: you can fit it into HP's not-so-cleverly-named HP Integrated Work Center Stand for Small Form Factor, which essentially turns the SFF into a rather bulky all-in-one for a mere $129 – as long as you provide the 17-inch to 24-inch display.
Sponsored: Minds Mastering Machines - Call for papers now open