Hasselblad H4D-40 Stainless Steel 40Mp camera
Shiny special edition for the pros
All mod cons
The modularity of medium format systems has always been a sticky issue, as the integration between camera body and the sensor in the digital back was always less than perfect, and certainly no match for the flawless integral whole of a one-body DSLR. In the case of the H4D though, the integration is so fine-tuned that the system works as smoothly as the best DSLR, letting you control settings like ISO or White Balance directly from the camera body and showing information and histograms on the body display as well as on the main LCD.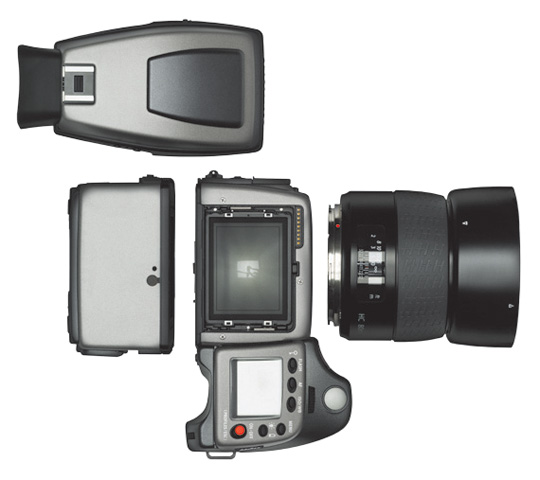 The H-series is modular system with easily interchangeable accessories
This level of integration is a hugely important step forward in the medium format world especially when classic modular MF models are challenged by one-body MF cameras such as the Leica S2 or the Pentax 645D, which use the same or similar sensors without facing the challenges of modular calibration.
Unification comes at a price though. Since 2008 Hasselblad has used a proprietary system, so its backs cannot be used on any other manufacturer's body nor can any back other than Hasselblad's be mounted on its camera bodies. Hence anyone considering buying into the H4D system will not be able to combine it with any other medium format body or digital back they might already own.
To compensate for the lack of 35mm-style multi-point Autofocus system – something that has always been a bit of an issue with medium format cameras relying on one centred AF point – Hasselblad has come up True Focus, a feature on all H-series models.
True Focus is a gamechanging technology, as it allows to lock focus on the desired area of the subject, like the eyes for example, when reframing for composition. True Focus relies on the camera's Absolute Position Lock (APL) processor that, once focus is first established, is able to log the camera movements during reframing and communicate these changes to the lens's focus motor for the necessary adjustments.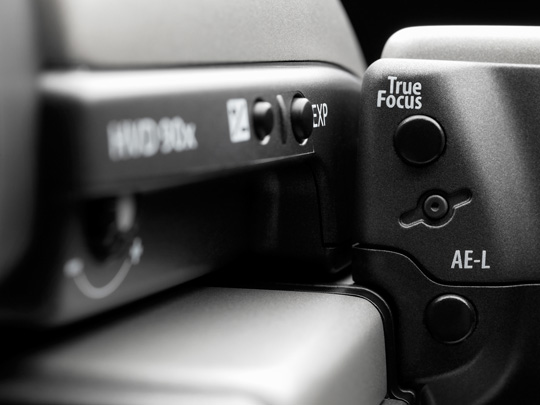 The jewel in the crown: True Focus
The system is extremely accurate even when the focused subject is pushed to the corner of the frame but will not work at all if the subject and/or the camera move significantly from the original position. In bright daylight the Autofocus system is fast enough, but in reduced lighting conditions it begins to struggle, which can be an issue for location work. The impressive thing is, that despite all the additional work True Focus has to do, I couldn't detect any actual delay when focusing on stationary subjects.
Sponsored: Minds Mastering Machines - Call for papers now open