Hasselblad H4D-40 Stainless Steel 40Mp camera
Shiny special edition for the pros
Test tones
Compared to any DSLR the H4D-40 has a streamlined and beautifully simple layout. Most controls, Flash, White Balance/ISO, AF, Menu, Display Backlight and On/Off button, are positioned around the info display on the right top plate and can easily be accessed. A bit more difficult to reach is the mirror lock-up button and the stop-down button positioned inside the front recess of the handgrip. The provided control buttons call-up the available options for each setting that can then be selected through either one of the camera's two control wheels, and then stored by pressing a Save button.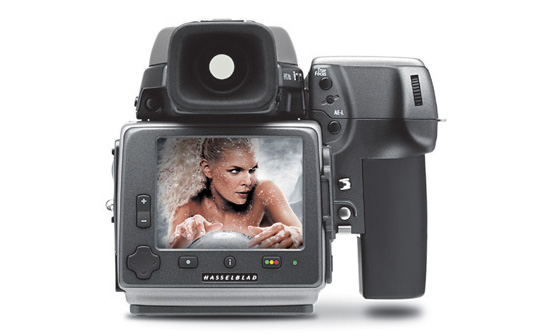 Only a 3in display on the back
The H4D-40 provides an articulate and extensive level of customisation where – apart from being able to reassign functions to buttons and wheels – the user can also create and name specific profiles, whole set-ups for each scene or shooting mode, that can then be easily recalled through the on/off button. In addition, the camera also features Audio Exposure Feedback technology that which is an impressive title, but simply makes warning sounds to alert the user to over/under exposure, low battery levels or card space running out.
The menu is also very simplified compared to most DSLRs. Being a single-shot camera and generating only RAW files the H4D-40 can do away with a lot of JPEG menu options like file size, sharpness etc. Despite this I found the menu not exactly as straightforward to navigate as I initially thought and had to resort to the manual a few times, which is not something I have to do too often with the cameras I test.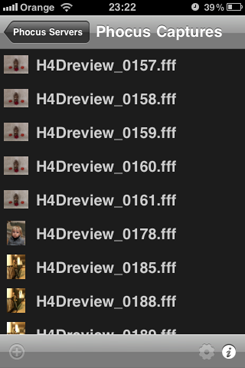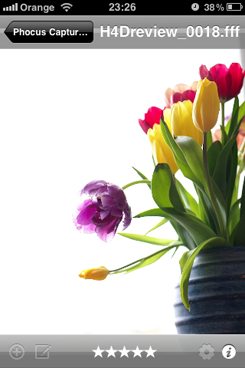 Phocus mobile captures and preview
The H4D-40 can be tethered to a computer using FireWire 800 for studio shooting or you can simply rely upon the LCD screen on the back. While the display might be better than other MF digital backs it bears no comparison with the high-resolution screens found on most full-frame (35mm) DSLRs. When shooting on location in un-tethered mode this can be a bit of a problem, since checking for accurate focus directly on the screen is not a reliable option even though there is an image zoom function. I was also disappointed to find that tonally, the colour reproduction on the screen was not exactly faithful.
The viewfinder, however, is superb, much larger than any 35mm can ever be and beautifully bright. I have used the standard pentaprism HVD90x but being a modular system, this can be replaced by the HVM waist-level option if preferred. The eye rubber piece is luxuriously soft and wraps around your eye snugly keeping any external light from filtering in, but it is very delicate: I split the rubber on the one I was issued after only a couple of days.

Viewfinders: the 90° HV90x on the left features a pop-up flash
Somewhat surprisingly, the HVD90x and HV90x viewfinders feature a pop up flash unit that, while not being great as main lighting source, works quite well as a fill-in light. More importantly though, the leaf shutter integral in each H lens enables the H4D-40 to sync external flash units at all shutter speeds (256sec. to 1/800th sec) with obvious creative advantages over 35mm DSLRs.
Sponsored: Minds Mastering Machines - Call for papers now open