Welsh scientists 'barcode' native flora
DNA ID card for 1,143 species
Welsh scientists are working towards a complete DNA "barcode" record of the country's 1,143 flowering plants.
The Barcode Wales initiative forms part of the Barcode of Life plan to establish a database of standardised IDs for all the world's species, comprising a "very short genetic sequence from a standard part of the genome".
At the helm of Barcode Wales is Dr Natasha de Vere from the National Botanic Garden of Wales. She and Dr Tim Rich from the National Museum of Wales, and Professor Mike Wilkinson from Aberystwyth University, have already extracted and sequenced DNA from fresh or dried examples of all Welsh flora.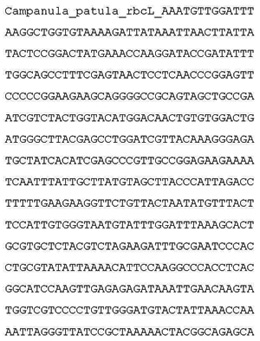 The Barcode of Life standard for plants requires scrutiny of two barcode regions, the genes rbcL and MatK, which are "recognised internationally, so that everyone throughout the world uses a standard approach".
The DNA of three specimens of each plant species is sequenced to allow scientists "to spot errors and also to pick up if there is any variation within species in the barcode sequences".
Once the barcode is created (right), it is uploaded to the Barcode of Life Database.
The National Botanic Garden of Wales says there are "many potential applications" for DNA barcodes, including tracking endangered pollinators by identifying pollen on their bodies, understanding "how plant communities are assembled, vital for predicting the effect of climate change", and using "plant fragments found on clothing or at crime scenes" to help forensic investigations.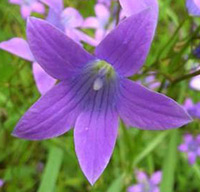 The Welsh scientists are already using their work to examine just what's happening to the spreading bellflower (Campanula patula, pictured) "a critically endangered plant that has declined throughout Wales", as Dr de Vere described it to the BBC.
She explained: "We are looking at the DNA of plants now and comparing them to plants 100 years ago by extracting DNA from herbarium specimens."
If the bellflowers have lost genetic variation, indicating that "all breeding individuals live in a similar niche environment", they could be at increased risk from environmental changes.
Once the results of the Barcode Wales project are published in the summer, they'll be used to "establish tailored conservation programmes for Welsh plants".
There's more on the DNA barcoding process here. ®
Sponsored: Minds Mastering Machines - Call for papers now open