The Sun still not shining on Nintendo's 3DS
Causes high heart rate, OMFG!
The Sun stepped up its slagfest towards Nintendo's 3DS today, subjecting a self-less volunteer to two hours of 3DS gaming to show just how bad the console may be for your health.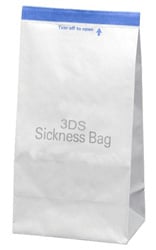 After yesterday's spat in which the tabloid claimed retailers had received huge levels of 3DS returns - heavily disputed by Nintendo and retailers alike - The Sun appeared to have backtracked by updating its online version of the story.
Today however, the paper has struck again, this time with the headline "Nintendo 3DS is a game for a barf".
In the article, the tabloid's in-house medical expert runs a few tests on 22-year-old Lee Price as he plays Super Street Fighter IV 3D and PES 2011 3D.
After playing for four 30 minute periods, Price had a high pulse and increasing blood pressure. "If this was your resting rate, I'd recommend you saw a GP about high blood pressure", said doctor Carol Cooper. "If this rate is sustained for a long period it could damage circulation".
Who has a "resting rate" when playing videogames? Surely, the whole point is that they stimulate and excite.
In response to the paper's earlier claims, Nintendo said "when viewing any kind of 3D images, including movies and on TV, some people might experience minor discomfort. The effects are short term and have no lasting effect; most people can continue after taking a break."
It seems The Sun really has Nintendo in its sights over this one, though. There is only one way to settle this… ®
COMMENTS
That doctor
She needs to be reported to the BMA for clearly not knowing anything about adrenalin.
Do they not teach things like that in medical school anymore?
"Getting excited increases pulse" shocker. I think that was on the first page of my A-level psych text-book.
She also doesn't appear to know how to conduct an experiment. Where's the control? If they had tested this against someone using a normal DS then that might have been vaguely scientific.
Even your average GCSE science student could design a better "experiment"
Poor goodie bag?
Seems to me like a certain papers tech editor wasn't invited to the product launch or maybe got a smaller goodie bag than expected.
Perhaps...
...The Sun are pissed off because they didn't get any of those 'scoop' full page advertising deals off Nintendo this time?? Possibly along with a 'Buy The Sun For A Year And Get A 3DS For Not Quite Full Price' promotion?
I'd suggest to The Sun that they get back to reporting news, but they've not actually done that for, well, ever really!
whilst it's very easy
to write the Nintendo story off because it's The Sun, there is some serious concerns about the the long-term damage to young eyes using the 3DS.
I have pretty good vision, and 20 minutes of gameplay was enough to give me nausea. To be honest thou, after 20 mins of the horrendously bad launch software, that was enough anway.
Doom? You wuss.
The original 'Alien versus Predator' however; that was proper scary. The pinging of that motion tracker still haunts me.
AvP + Sound up + Lights off = Brown trousers.