Yuri Gagarin in triumphant return to London
12ft statue set to touch down in the Mall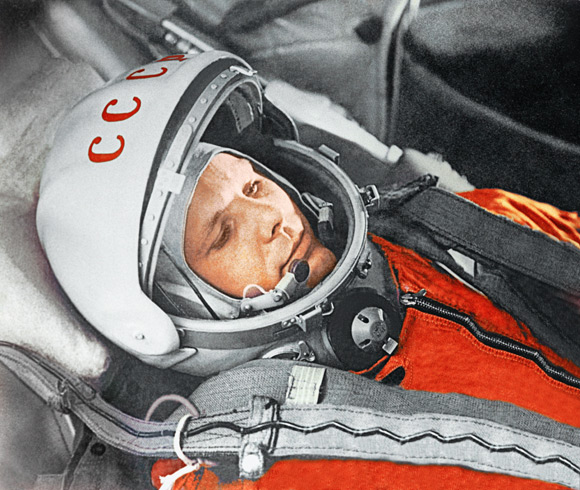 Following his historic 108-minute flight on 12 April, 1961, Gagarin was invited to London by the National Union of Foundrymen. He received an enthusiastic welcome from the public – so enthusiastic that the government, which had been unsure how to handle the space celebrity's visit, decided to extend his planned stay by two days.
The cosmonaut was formally welcomed to London by Prime Minister Harold MacMillan (see pic) on 13 July, and the next day enjoyed a "hastily arranged" lunch with the Queen.
On the 50th anniversary of that encounter between Russian and royalty, Gagarin's daughter Elena Gagarina, now director of the Kremlin Museums, will do the honours in unveiling the tribute to her father.
She'll be joined by Alexei Leonov, Gagarin's friend and the first man to walk in space, Sergei Krikalev, director of Star City, and Natalia Koroleva, daughter of the celebrated Sergei Korolev, "chief designer" of the Soviet space programme.
Gagarin's statue will sit for 12 months outside the British Council offices and, appropriately, opposite the tribute to Captain Cook on the other side of the Mall.
Vernon Ellis, chair of the British Council, enthused: "The unveiling of the statue of Yuri Gagarin in July, so close to Trafalgar Square, will be a wonderful moment. I remember the excitement in 1961 when we heard that Gagarin had successfully orbited the earth. Everyone was moved by the sheer bravery and adventure of his flight and through this statue we celebrate both that breakthrough for mankind, and the UK-Russian relationship."
Vitaly Davydov, State Secretary and Deputy Head of Roscosmos, said: "Gagarin belongs not only to Russia but to all countries and nations, and it's important to us that the statue of Yuri Gagarin will be shown in London – one of the world's most international and intercultural cities – to celebrate the 50th anniversary of the first manned spaceflight.
"Russia and the UK have much in common, not only as allies during the Second World War, and victory gained through sacrifice, but as nations which have always been eager to travel to the unknown, and to discover new space; Gagarin symbolises this aspiration. And I believe that it is very important for us to combine our efforts – intellectual, cultural, logistical, and practical – to create a better planet for future generations everywhere."
While Gagarin graces the Mall, the British Council's headquarters will host an exhibition including "rare photographs lent by the Gagarin family, Soviet posters from the Moscow Museum of Cosmonautics, and a film made by Roscosmos showing original footage of the early training programme and the 1961 launch itself".
Visitors will also be able to see the first "SK-1" Soviet space suit and "an ejector seat of the model used by Gagarin when he parachuted out of Vostok 1 at an altitude of 7km".
The British Council has more on the Gagarin memorial unveiling here, and specific details of the statue here. ®
Sponsored: Minds Mastering Machines - Call for papers now open