Power play
Connections to Nas drive and mobile phone were easy to set up and playback was robust and stable. AirPlay is almost boringly reliable – if you're running iTunes 10 or later it will automatically detect a networked player and give you the option to use it to play your music. It just works, and you can also download the AirPlay app to your iPhone to allow you to play tunes direct from your mobile, and to act as a remote control.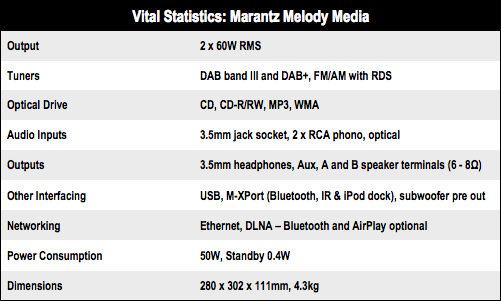 The power is there for when you want to crank it up, assuming you've got some decent speakers to do it justice. I tried it with a pair of £500 Quad 12L2s and it sounded composed and in control at all times, even when cranked right up. The sound was transparent and detailed too, whether belting out some filthily muddy Stooges live tracks or Asa's close-mic'd acoustic strumming.
Marantz's sister company Denon has the similarly priced Ceol, which ups the flexibility quotient with built-in Wi-Fi and a dedicated iPod dock, as well as a slightly more powerful amp. Without a side-by-side test I'd be hard pushed to say which of the two sounded better, but I couldn't say for sure that the Marantz would win.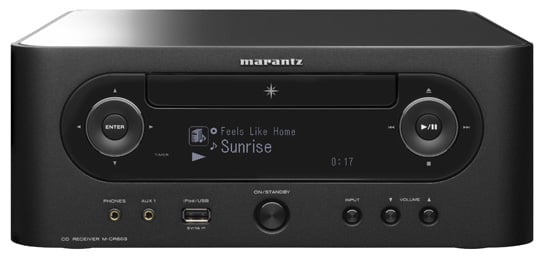 You'll need some decent speakers to do justice to its robust output
Verdict
The Melody Media doesn't have the versatility of the Denon Ceol but it's a fine-sounding, good-looking little system with plenty of potential – it's just a shame that so much of that potential has to come at additional cost. ®
More Audio Gear Reviews…

Bowers and Wilkins
Zeppelin Air
with Apple AirPlay
Altec Lansing
inMotion Air
Onkyo
CS-545
Roberts
Stream 63i
Denon
Ceol
with Apple AirPlay
Marantz Melody Media music combo
CD player, FM/AM/DAB+, Internet radio and network streaming in one box, with AirPlay too
Price:
£500 (base unit), £610 (with LS502 speakers), £40 (AirPlay upgrade), £110 (RX101 Bluetooth adapter) RRP
More Info:
Marantz's Melody Media page
COMMENTS
No worse than the Denon CEOL...
The comparison review of the Denon CEOL (RCD-N7 + speakers) made play of the wi-fi that it has over the Marantz, but given powerline ethernet is generally more reliable and doesn't require loads of Cat5.
Featurewise, the Marantz can drive 2 pairs of speakers (the CEOL can't) and can be used bi-amped to power 1 pair (for greater control) - I use this feature to drive a thumping pair of B&W DM603's and I can vouch for the sound quality. This little box replaced a 4-box Arcam Alpha rig!
The only gripe about any of the new crop of boxes featuring AirPlay is the rip-off for the firmware upgrade! Aren't you buying these boxes because of this feature? Why get charged extra?
£500? No wi-fi?
No wi-fi is laughable for a device in this price bracket. It's a bedroom device and I don't really want to be running CAT-5 cables up the stairs. Nice try Marantz but no thanks.
versatile?
I've had a Pure Evoke FLow for years. wi-fi, streaming from my NAS, internet radio, fm, dab (dab+ isn't going to be in the uk for a while?). Personally, I stopped using cd's long ago. And it has a built in speaker and battery portability for bathroom / BBQ. Takes firmware updates automatically. Who needs apple?
Hell of a lot cheaper, and more versatile. Not for everyone, but suits me better to have something I can take from room to room, then plug into a generic amp in the kitchen. I use xbmc on a Revo with my main amp in the living room.
Just a cheaper alternative for some people... (there are so many cheaper, open alternatives in this market!).