MythBusters: Savage and Hyneman detonate truthiness
El Reg interviews lead balloon floaters
The 'boffin method'
"There's an amazing strata of people building the world and figuring out how it works. And because of the way we approach a subject, that means they treat us like peers and we get to be part of the conversation," Savage told us of the experts they work with.
The pair solve problems using a deliberate, methodical approach. This has helped earn them not just the respect of similarly minded types in government and tech, but also Harvard University's Humanism Award for using modern-day science to demonstrate whether things we take for granted "hold any ground". Past winners include novelist Sir Salman Rushdie and Buffy-, Angel-, Firefly- and Dollhouse-helmer Joss Whedon – another worthy who has a strong following in certain tech circles.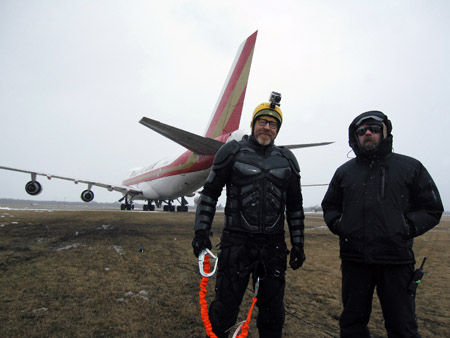 Savage and Hyneman's "methodical approach" about to get an airing
"Being methodical is something you have to do if you are driven, because that's the efficient way of approaching something and analyzing it," Hyneman tells us.
Being methodical is also important in helping to maintain safety on a show that involves so many explosions in confined and not-so-confined spaces – and it means that Hyneman and Savage aren't always having as much fun as it might seem. "The explosions are the most difficult part of the show," Savage says. "We are trusted to make them work and work with the safety procedures. Setting up an explosion is a laborious, exacting, and stressful process. It's much more fun to watch them on high-speed [playback] later."
Maybe that's why the lead balloon is a favorite of the pair: because they could safely become absorbed in the project. "The most thrilling story was the lead balloon," Hyneman tells us firmly, and Savage enthuses about the effort in a Discovery Channel video.
The problem-solving aspect of how to create something 14 feet in diameter and weighing just 11kg out of a fragile material is what made the ballon project so thrilling, Hyneman told us. "We like that episode because it highlighted you do not need to build a balloon out of lead, but if you do take the effort it's just extremely rewarding – the problem-solving you have to go through."
Being methodical also helps get the job done. Asked what the biggest myth about MythBusters is, Hyneman tells The Reg that it's that they have an army of helpers building everything you see in the show. In realty, there are just 25 people at M5 and their second studio, M7, also in San Francisco. "There's only a couple of guys and most of the stuff we build, we build ourselves," Hyneman says. "It would seem nobody believes us!" Savage calls their level of involvement "pretty all-consuming," since they shoot 46 weeks of the year. "It's pretty nonstop," he says.
With new shows underway, the pair reckon they've got a long list of myths they're ready to test, with suggestions coming in online in addition to topics they're already interested in exploring. A big one they're figuring out how to do is an explosion in the vacuum of space – a staple of much TV and film sci-fi. "That's a myth we'd like to tackle right there," Hyneman says. "We are trying to figure out a way to do it."
IT fans, however, shouldn't expect too many episodes tackling the one thing they spend most of their time working on: computers. While Hyneman reckons there are probably some potential myths around artificial intelligence or viruses to be mined, the problem would be depicting them. Despite what you might think, displaying lines of code isn't most peoples' idea of "interesting TV," Hyneman says. "There's such a lack of physicality about them," he says of computers. "I've always reacted like I want to build and interface with a 300-pound mouse on it so I can get a little physical on it, so I can lunge at it on the TV."
Computers not allowed
In fact, the MythBusters try to avoid using computers at all. "We try to find an analog way around it," he tells us, "because computers are really, really difficult because of the conditions we work in – either in 50 degree heat, rain, or the ocean."
That said, this season UK viewers will get to witness one PC-related myth that has been buzzing around the internet: that a swarm of bees can lift a ThinkPad. Spoiler alert: US audiences have already learned the MythBusters' verdict, now viewable on YouTube.
The rest of the new season is classic MythBusters: testing the feasibility of setting off an explosion using an open gas pipe, toaster, and a rolled-up magazine, as in The Bourne Supremacy; splitting a tree in two using a "dynamite axe"; building an effective bomb shelter using everyday household objects; and seeing whether the first torpedo, supposedly built in Syria in the 1320s, could have accurately delivered its payload.
Computers need something bigger and more dramatic to get some MythBusters screen time, it seems. Maybe Savage and Hyneman should test which has the most destructive explosive power: a Mac or a PC. ®
Sponsored: Minds Mastering Machines - Call for papers now open