Eminent iTrio EM7100 HDMI wireless video sender
Room with a view
Wall to wall coverage
So how easy is the EM7100 system to set up and what's the quality like? To find out, I ran three location tests and used both a Blu-ray player and a Sky+ set top box as sources – typically the two most likely types of kit you'd want to wirelessly connect.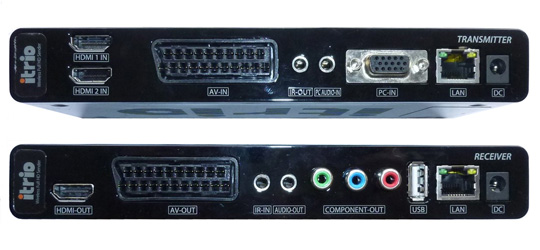 Rear connections support IR transmitter flashers
Eminent quotes a range of up to 30m for the system, which transpires to be a little optimistic. My first location test was between two adjoining rooms, at a distance of around 5m. The units automatically located each and immediately bridged the AV divide. I then moved the receiver to a second floor, in rooms approx 9m and 20m from the Transmitter. In both instances, the two units failed to lock. It seems the brickwork in my 1930s dwelling was just too much to negotiate.
To access the integrity of the wireless signal, the iTrio HDMI Receiver was connected directly to an AV amp. This would immediately identify if it was able to deliver bitstream multichannel sound. With the transmitter connected to a Blu-ray source, a variety of test patterns were played to highlight resolution and compression artefacts created during the H.264 encode/decode process.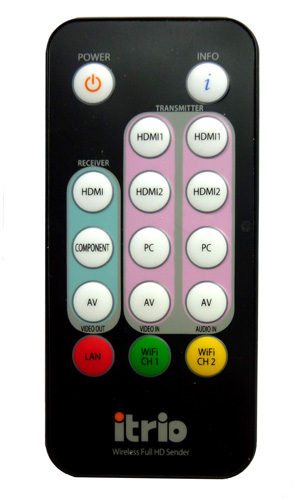 Credit card remote
Performance was a mixed bag. Certainly compared to the RF-based video senders of yore, the quality of transmitted sound and vision is tremendous. There's no ghosting or excessive noise and colour fidelity is good; however, I did notice motion judder which may irritate on anything which isn't casual viewing. This was more evident on the test patterns coming from the BD player than programming from the satellite box.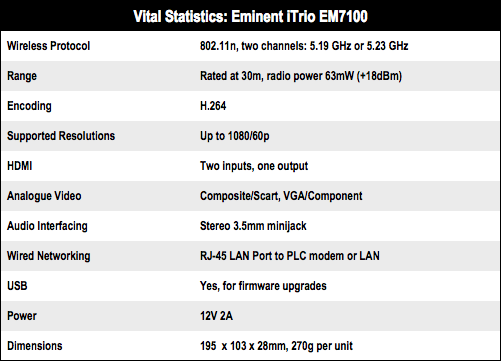 Sponsored: Minds Mastering Machines - Call for papers now open