Eminent iTrio EM7100 HDMI wireless video sender
Room with a view
Review The video senders of yesterday didn't enjoy the best of reputations. Typically used to route the analogue feed of one VCR to a second TV at the other end of the house, they suffered all manner of RF interference. Even when you managed to align their directional antennas, ghostly gremlins would make for a second rate viewing experience.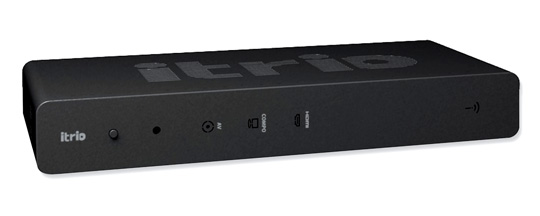 Eminent's iTrio 7100 receiver supports analogue sources as well as HDMI
But that's all changed with the advent of a new generation of HDMI senders. Using the 5GHz band intended for short-range wireless LAN applications, they can deliver a high-quality Full HD image through brickwork and other household miscellany.
Most of HDMI senders offer a simple single HDMI link between two points. The Eminent iTrio EM7100 reviewed here, however, is rather more versatile. The Transmitter features two HDMI v1.1 inputs, SCART, PC VGA/Component (a VGA-to-component adaptor lead is enclosed in the box) and a stereo minijack audio input. The look-alike Receiver offers HDMI, Scart and component outputs. This broad selection of connectivity means the system can be used both with modern kit and legacy hardware. The units support HDCP v1.2.
There's also an Ethernet LAN option on both. The instruction manual declares that this is intended for "professional use only" which appears to be Eminent's way of dodging including wired networking configuration information in a bid keep support calls to a minimum. Also provided is a USB input for firmware upgrades. Filling out the pack is a small remote control and a standard IR 'flasher' cable.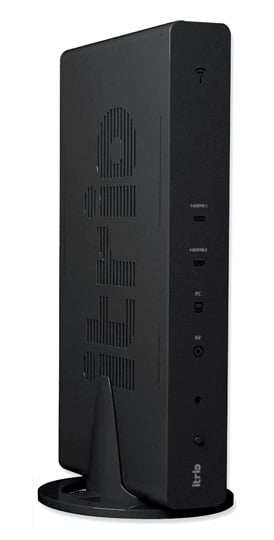 Transmitter – upright, if you like
Build quality is good. Both Transmitter and Receiver are finished in a smart, gloss black and supplied with plastic cradles which allow them to stand vertically. It's important these are used as the units run warm.