Pacific island in royal wedding philatelic outrage
The island of Niue perforates Wills and Kate
The Pacific island of Niue is set to ruffle a few royalist feathers with its Prince William and Kate Middleton commemorative stamps, featuring a strategic perforation between the happy couple.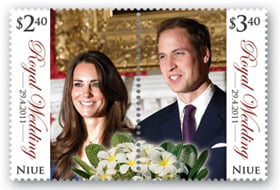 This philatelic allusion to the probable fate of the marriage, issued on behalf of Niue by New Zealand Post, didn't much impress Hugh Jefferies, the editor of Gibbons Stamp Monthly.
He said: "Whoever designed this will have egg on their face and someone's head will roll. I'm sure they didn't mean to ominously suggest the couple could be easily separated; it's just a very bizarre design."
He added: "This kind of thing has happened in the past. When Charles and Diana got married, the Australian Royal stamp had the couple facing away from each other, which caused much criticism."
Jeffries also noted that it's "unusual that the two stamps are worth different values", although the fact that Kate currently commands a NZ buck less than Wills indicates she has not yet achieved Queen of Hearts™ status.
Niue's head of state is Her Imperial Majestyness Liz 2, so it's entirely likely someone's head will indeed roll for this slight to her grandson and his future missus. We'd like to suggest the detached bonce is stored at New Zealand Post in a Wills and Kate commemorative fridge, as a warning against future perforations of royalty. ®
And the IT angle?
We're glad you asked us that. Back in 2003, Niue rolled out free Wi-Fi for all its citizens, apparently becoming the first nation to achieve such coverage.
Sponsored: Minds Mastering Machines - Call for papers now open