Acer Android tablets priced
Pre-orders taken too
Acer's 7in Android 3.0 Honeycomb tablet, the Iconia A100, will be out later this month for 300 quid.
So says Amazon.co.uk, which says that those 300 notes will buy you 8GB of storage, a 1024 x 600 display, Bluetooth and 2.4GHz 802.11n.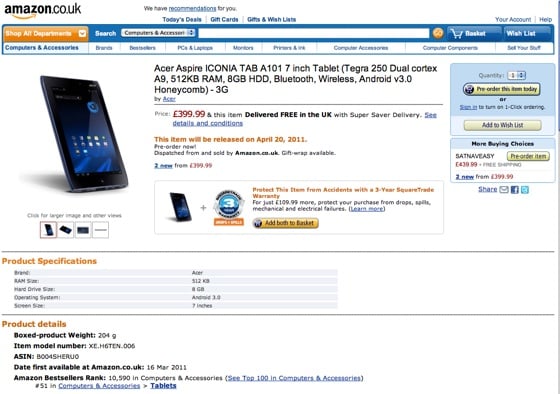 The online retailer also lists an A100 at £400, but the listed specification is identical to that of the £300.
The models are different - their product codes are not the same: XE.H6REN.006 and XE.H6TEN.006. We believe the more expensive of the two - the XE.H6TEN.006 - has the 3G connectivity absent from the cheaper one.
For comparison, £300 will also get you a 7in Samsung Galaxy Tab which likewise doesn't have 3G on board and comes with Android 2.2 Froyo, not Honeycomb. But it does have 16GB of storage.
Both A100s go on sale on 20 April, Amazon says. ®
COMMENTS
Confusingly-named tablets doomed to fail?
Me: "I have an iPad 2."
Someone else: "I have an Aspire Iconia Tab A101 XE.H6REN.006."
Another: "I have an Aspire Iconia Tab A101 XE.H6TEN.006."
Apple's marketing strategy is to keep things simple. Call it an iPad and release version 2 about a year later, then iPad 3 a year after that. We know that the iPad 3 will be better than the iPad 2 because Apple's strategy clearly defines it.
Acer will continue to bring out multiple different models with different specs, and no one will be any the wiser about which is better until you compare specs. Just give the product a simple name and you'll get people buying it. The Samsung Galaxy and Motorola Xoom are the only non-Apple tablets I've heard of because they have names that people remember.
Yes, Acer are covering all their bases by offering various models to suit everyone, but the iPad and iPad 2 aren't failing because one size fits all; they are winning because one size fits all. They are winning because your average Joe customer *doesn't care* that it doesn't have a mini-USB port or an SD card slot. They just want something to work, and it does.
Acer won't grab significant market share per model, but the iPad will, and is.
Think it through
1. Netbooks don't have capacitive touch screens.
2. Netbooks sit on desks or laps, people plug them into the mains.
3. Netbooks are bulkier.
4. Netbooks run existing operating systems.
So to produce a tablet you need a better design (slimmer), more expensive screen and large capacity batteries that are small enough to cram into a smaller tablet casing. You also need a team of software developers to compile and configure Android for the device.
They're more challenging to design and use more expensive parts.
Overpriced
When these things were netbooks a 7" got £200 max. I don't see why now that the early adopter price gouging has been done by Apple that other companies feel they need to doom their product by doing the same.
You missed it
"The online retailer also lists an A100 at £400, but the listed specification is identical to that of the £300."
You may need to look harder - it says "3G" at the end of the description of the £400 one.
Also, is it just me, or does the iPad 2 still look a good deal compared to these (and no I am not a fanboi!)
check your units
there's a big difference between KB and MB, 1024 times in fact