BBC-led RadioPlayer arrives at last
Industry gets its act together
Mike Hill, a BBC veteran who was briefly Channel 4's head of digital radio, was the only full-time employee on the project. Channel 4 was granted a national multiplex to launch a range of stations to rival the BBC, but pulled out in late 2008. Hill told us the BBC "primed the pump" for RadioPlayer and looked at several options – a portal-type website – before going for the minimal approach. Hop along to radioplayer.co.uk and you'll find a search engine that brings up the console. But since the console is available on broadcaster's home pages, that's how most listeners expect to find it.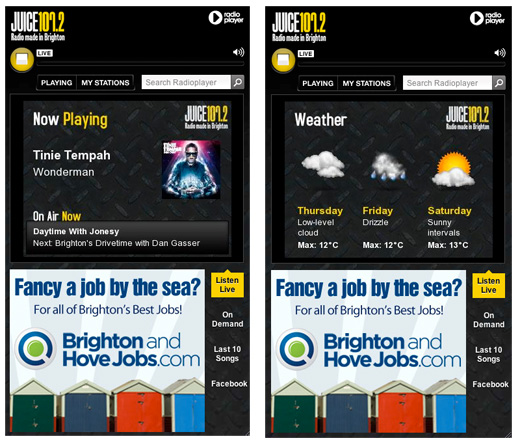 And here's what a commercial station looks like. The space can be used for on-demand, podcasts or other related material.
Hill talked today about the console united DAB FM and internet radio and envisaged hundreds of thousands of stations coming to the console.
For the BBC, head of audio Tim Davie said the radio business hadn't been as innovative as it could have been, but RadioPlayer made it "match fit" for embedding in future devices. Totally Radio chairman Daniel Nathan had called for the iPlayer to be opened up – and while the BBC declined Nathan said he was "pushing at an open door". He found Davie was receptive to the idea of a common venture with the commercial sector.
"It's not replacing aggregators – but the radio industry needed to get its act together and produce better metadata," he told us.
All in all, it's quite an achievement. It's open rather than a walled-garden, it's useful and user friendly – touting features that are valued by listeners, rather than suppliers – and free from the problems that characterised (say) the original iPlayer project. The history of industry-wide technology joint ventures is not a happy one: delays, feature creep, cost overruns, bloat and (eventually) fragmentation are more common than not.
And the cost?
"In the low six figures," executives said today. Or about the same as Tim Davie's salary, somebody pointed out, cheekily.
Davie looked less than pleased by the comparison. His pay for 2009/10, for the record, was £452,000.®
Sponsored: Minds Mastering Machines - Call for papers now open