Apple patent eyes Mac OS X tablet
Or multiple workspace iOS. Take your pick
Mac OX goes horizontal
A far more likely multi-touch interface for Spaces on a traditional Mac OS X–equipped PC would be either the trackpads built into MacBooks, or standalone devices such as Apple's Magic Trackpad or even an enhanced Magic Mouse. These input devices currently have limited multi-touch support in Mac OS X, and are not yet capable of tap and pinch gestures that use up to all five fingers, as evisioned by Thursday's patent application.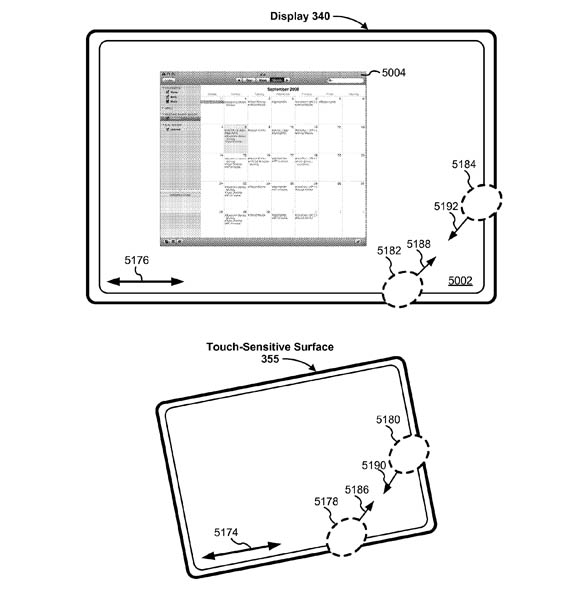 When using a trackpad, multi-touch gestures would have a one-to-one correspondence to what's on your display
Alternatively, Thursday's patent filing might be aimed at a version of Mac OS X that could run on a Mac with a display that could be folded down to near-horizontal, as was detailed in a 2010 patent filing – a trick that's used by the HP TouchSmart 610.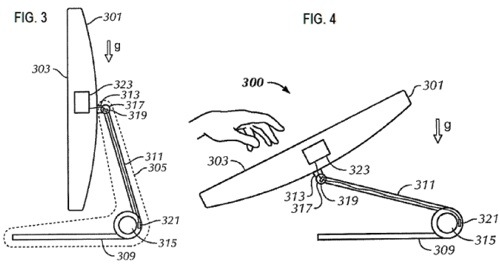 Apple filed a patent last year for a fold-down Mac that could more easily be multi-touch enabled
With all the illustrated emphasis on Mac OS X, it remains a bit of a mystery why the patent filing spends so much time describing an iOS device, and yet doesn't specifically make any mention of that device, also illustrated, using multi-touch gestures for multiple-workspace management à la Mac OS X's Spaces.
Perhaps Apple is pondering a tablet Mac that runs a multi-touch enabled Mac OS X Lion rather than iOS. Perhaps the multi-touch, iOS–running iPad will incorporate the multiple-workspace convenience of Spaces – a development that would most definitiely be a major improvement over the clunky multitasking now enabled by iOS 4.x.
Or perhaps Apple is aiming to patent multi-touch workspace management for both iOS and Mac OS X without revealing any hints as to its future plans for how the two OSes will become more similar in future releases. Or, for that matter, to meld into One OS to Rule Them All
As is always the case with Apple's product plans, we simply have to wait until Jobs reveals what Jobs reveals – or until someone finds a prototype in a Redwood City, California, watering hole. ®
Sponsored: Minds Mastering Machines - Call for papers now open