Cloud music lockers: who fricking cares?
Amazon launches solution looking for a problem
Compare that to a Spotify, which has its own set of inconveniences, but also offers a few quite clear and compelling features: instant access to a large catalog; terrific performance from a native client application, rather than a web browser; playlist-sharing; and a reasonable list of features.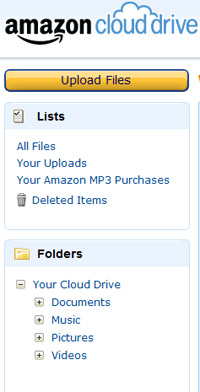 How it looks now: Amazon's Cloud Drive
Yet despite the obvious-when-you-think-about-them drawbacks to lockers, the music industry is paralysed by its response to this. Large record companies once had a fear that with lockers, they would only ever sell one copy of a recording, and the rest of the world would stream it. The industry sort of got over that fear, and now it does much more licensing that it used to.

It's an FTP site... with a play button!
But instead of the major innovations and experiments, and wholesale reforms it should have made, the music industry has instead only made sideways crab movements, and really has no more idea of how it can capture the value from music than it did years ago. The current objection to "lockers that stream" is that services don't pay very much for their music – this we know – and they reduce income from services that do pay. The answer to that is to license more and better services, and focus on licensees who have a bit of cash, rather than the archetypal Nathan Barley on his Gap Yar (just off Shoreditch) "tech startup" so beloved by David Cameron.
Amazon will get better, to be sure. But I'm still stumped at why I (or any other music fan) would want to pay for this. Perhaps you can enlighten me.
In the meantime, a much better locker is from Michael Robertson's MP3Tunes.com, currently the subject of a lawsuit from EMI. It offers up to 200GB for $12.95 a month, and playback clients for dozens of devices.
And it still isn't very exciting. ®
Bootnote
In the space of a few days during the dot.com crash, in May 2001, Bertlsmann bought up David Pakman's Myplay locker and Universal bought Michael Robertson's MP3.com – which made a backup of your CDs for playback from the cloud. Bertelsmann thought it could complement Napster. It still can, but the Napster part of the proposition (licensed file-sharing) is still MIA.
Sponsored: Minds Mastering Machines - Call for papers now open