Nintendo 3DS contains £60 in bits
Cheap as chips
Nintendo's 3DS may set customers back £200 in many places, but it only contains 60 quid's worth of parts, apparently.
UBM TechInsights has been taking apart hardware again, this time estimating the cost of the components used to make the 3DS is $101 (£62), roughly £10 more than the cost of the bits in the DSi, which launched in 2009 for £149.
iHS iSuppli backs up this figure. It conducted a breakdown of the 3DS and reached similar values.
It's no surprise that the 3D display, coupled with the touchscreen are the most expensive components, clocking in at $34 (£21).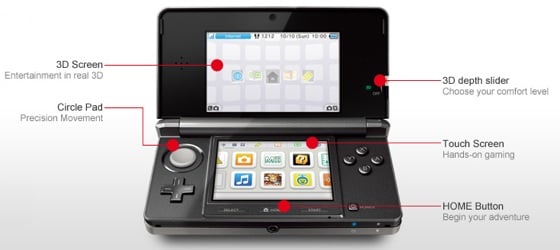 Obviously other costs aren't factored into this total price, such as labour, marketing, packaging and R&D, but surly there's a lot of profit being made down the line. What are the retailers making from this venture?
According to Eurogamer, Nintendo is charging retailers £170 per unit, which means that there is very little money to be made, especially when you consider some are selling it for £180.
However, such retailers are gambling on making much more from games and accessories, from which they can fetch up to 60 per cent profit.
Nintendo certainly appears to be making money from the console itself, but it has plenty of room to bring down the price in the future. ®
Sponsored: Minds Mastering Machines - Call for papers now open