Raising the alarm
The Zomm first appeared in the US in early 2010 but is now being officially distributed in the UK, currently in a choice of white or pink. A few similar devices have also emerged, such as the Nio, while the upcoming PipSqueak adapts the concept by adding caller ID display and call-holding.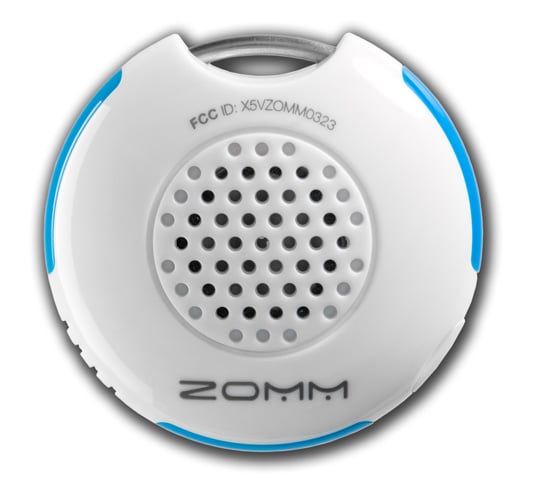 Doubles as a Bluetooth speakerphone or panic alarm
For now, the Zomm is a simple phone accessory. It takes about four hours to charge through its mains adapter or while connected to your computer via micro USB, where you also configure your preferences. Battery life lasts for about two to three days on average, depending on speakerphone usage or the number of times the alarm sounds.
The set-up is straightforward – you pair it to the phone like any Bluetooth product, and there's only one button on the Zomm itself. The button is slightly recessed to limit accidental presses in a pocket or bag, but it's relatively big so these could still happen. It serves as the on/off switch or, when on, to accept calls over speakerphone. Two quick presses diverts to voicemail.
When your mobile switches off – or if the battery dies – without first turning off the ZOMM then its alarm will sound. Therefore you have to adopt a new mindset to keep aware of this, especially if you've gone somewhere like the theatre. And although it works with most mobiles, there are quirks. With a Nokia I found the alert sounded when answering incoming calls on the handset rather than with the Zomm's speakerphone. However, with an LG phone it worked properly.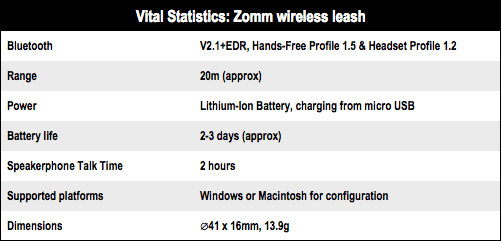 COMMENTS
Nice idea, but £80 way too much
Hopefully someone will make a cheap knockoff for about £20 and I may get one.
Could do without the speakerphone and all that junk, just the alarm would do.
I feel cheated
I was expecting an article that, as a dog owner, I would benefit from.
Re: Is there a device
Oi!
No recursion.
That should be tablets
over priced tablets. Not tables. Soz.
Though now that I come to think about it, tables are getting suspiciously expensive too - oh no I've become my dad, complaining about the cost of everything. Damn it!
Not the right solution
I considered buying this product for my missus last Xmas, because she's always forgetting her phone. But it's poorly designed - read some of the many reviews on the web, eg, those complaining being awoken at night when the phone ran out of power. Plus it needs to be charged, etc.
The right solution - for her at least - is the Bringrr (bringrr.com). This lives in the car, plugged into a power outlet, and beeps one of two tones when the car is started, depending on whether it detects the phone's BT signal or not. If the phone isn't there, you won't drive off without it. Simple. And a lot cheaper, and totally no-hassle.