Zomm wireless leash
For your dog and bone
Review The Zomm is a pebble-shaped wireless 'leash' for mobile phones. It pairs to a phone using Bluetooth and if the two devices are separated by a few meters then the Zomm alerts you, first by vibrating, then flashing and a few seconds later by beeping.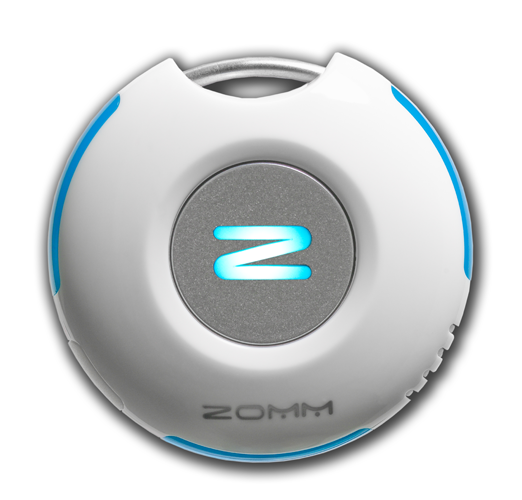 Protect and survive: Zomm's wireless leash is controlled by just one button
Designed to be used as a key-fob, it means that if you leave the house, office, pub, etc, without your precious handset you'll soon know about it rather than when it's too late. Similarly if the Zomm is in your pocket but someone makes off with your mobile, you'll be aware of it.
It has an additional personal safety feature that emits a panic alert after holding the Zomm's button for nine seconds, though it's quieter than conventional personal alarms. Hold it for a further five seconds and it automatically dials an emergency number. This can be set to whatever you like, such as 999 or your next of kin. Its default is the Europe-wide 112 and at the start it plays a standard message, in case you are unable to speak.
Pre-recorded message alert
You can use the Zomm's Bluetooth speakerphone feature during emergency calls, with the option of muting the speaker – though you wouldn't be able to hear what the other person is saying without transferring the call back to your handset – and I can imagine this being fiddly in an actual crisis. However, it does work, which I checked after customising the Zomm to dial my landline.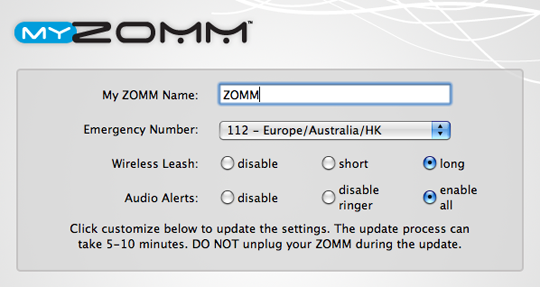 Customisable controls for alerts and 'leash' distance
In less urgent situations you can also use the speakerphone function just like any hands-free device, which makes it useful for conference calls or if driving, as long as the Zomm is safely accessible (e.g. attached to your car key). An in-car accessory kit is also available. If you already use a Bluetooth headset, only newer phones will allow two connected devices.
COMMENTS
Nice idea, but £80 way too much
Hopefully someone will make a cheap knockoff for about £20 and I may get one.
Could do without the speakerphone and all that junk, just the alarm would do.
I feel cheated
I was expecting an article that, as a dog owner, I would benefit from.
Re: Is there a device
Oi!
No recursion.
That should be tablets
over priced tablets. Not tables. Soz.
Though now that I come to think about it, tables are getting suspiciously expensive too - oh no I've become my dad, complaining about the cost of everything. Damn it!
Not the right solution
I considered buying this product for my missus last Xmas, because she's always forgetting her phone. But it's poorly designed - read some of the many reviews on the web, eg, those complaining being awoken at night when the phone ran out of power. Plus it needs to be charged, etc.
The right solution - for her at least - is the Bringrr (bringrr.com). This lives in the car, plugged into a power outlet, and beeps one of two tones when the car is started, depending on whether it detects the phone's BT signal or not. If the phone isn't there, you won't drive off without it. Simple. And a lot cheaper, and totally no-hassle.