Apple lands patent blow, but the slugfest continues
iPhone ban looking less likely
Apple has gained ground in the ongoing patent spat with Nokia. The US International Trade Commission (ITC) investigation judge has made an initial determination that Apple isn't infringing five Nokia patents.
That means the judge feels Apple isn't infringing on the five patents remaining in this case, and – if the decision stands – the International Trade Commission won't be banning the import of Apple products into the USA. That's good news for Apple – though it is only a minor development in what has developed into a world-spanning war.
Even this ruling is still subject to a vote of the ITC, which isn't expected until August and even then will be open to appeal. By that time Apple's counter-claim against both Nokia and HTC will be well underway, with a schedule calling for a ruling by the end of the year. The ITC has the power to block US imports of patent-infringing technologies, and an ITC complaint has become a usual adjunct to any patent filing these days.
But the court cases are still going on, in both the USA and Europe, and will likely continue for another couple of years at the very least. The whole landscape of the battle can be seen in patent analyst Florian Mueller's helpfully-updated diagram: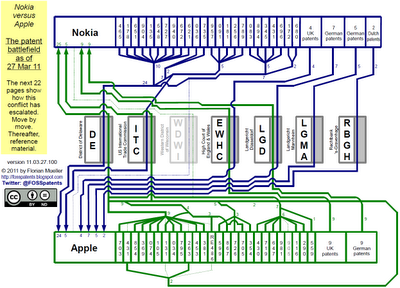 Mueller makes the point that Nokia's move to Windows Phone brings Microsoft into the war, on Nokia's side; Apple won't start a patent war with Microsoft as both companies have too much to lose. That could give Nokia free rein to attack Apple on the radio side of things, where Cupertino is less well-equipped, even if the courts find that Symbian phones are infringing Apple's patents. ®
Sponsored: Minds Mastering Machines - Call for papers now open