Nintendo 3DS
Raise your glasses?
The build up
The overall build quality and internal components are typical Nintendo, a company that long since eschewed bleeding-edge tech in favour of low build costs. The 3DS continues the DS family tradition of sturdy toy rather than robust device. The graphics improve on the DS, but are resolutely old-gen, sitting somewhere between the Gamecube and the Wii.

In profile, the 3DS is like three gadgets glued together
And animation in background planes is conspicuous by its absence, although this may result from rushed launch development times, rather than an overburdening of processing power by the 3D effect. Still, no one plays Nintendo games for visual fidelity, and the 3D effect certainly compensates for retrograde graphics.
My only real tech complaints are the battery duration - just 3hrs 12mins when looping SSF IV - full 3D, max brightness and Wi-Fi - using the game's handy CPU vs CPU mode - Ryu beat Ken, BTW - and the desultory resolution of the cameras: one inner for portrait snaps and two outer for 3D photos. At 0.3Mp, the cameras were already outmoded in the DSi two years ago, so it's disappointing to see the same ones here, especially when the 3DS will provide most with their first experience of 3D photography: visible, yes; impressive, just; beautiful, no.
A few remaining features weren't available for testing, but are worth mentioning. SpotPass is a persistent updating feature, which uses friendly routers and Wi-Fi hotspots - BT Openzone - to automatically update games and apps. And StreetPass automatically collects player information when in proximity to other 3DS devices. Lastly, the 3DS online store is expected sometime in May in the form of an app, replacing the much-maligned browser-based DSi shop.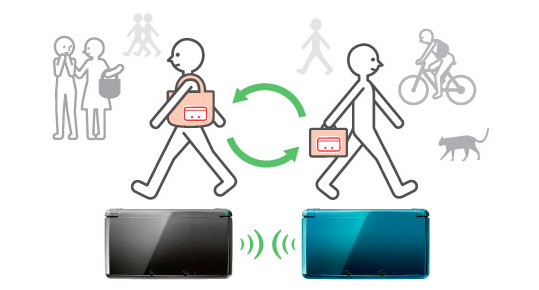 Never make passes at 3D fans with glasses
Verdict
Game & Watch, third-party licensing, Mode-7, Super Mario 64, Game Boy, DS, Wii. The 3DS rightly deserves a place among the pantheon of iconic Nintendo innovations. Who better than the Grandmaster of Gaming to take us through our first tentative steps in the autostereoscopic realm. The 3DS is far from perfect, and this reviewer's hands might be holding out for a 3DS XL, but when it comes to videogame magic, the 3DS proves that nobody casts a spell quite like Nintendo. ®
More Games Console Reviews

Xbox 360
Kinect
Sony
PlayStation
Move
Nintendo
Wii
Sony PS3
Slim
Xbox 360
250GB
Sponsored: Minds Mastering Machines - Call for papers now open

Nintendo 3DS
Portable 3D gaming and Augmented Reality shenanigans.