Libya fighting shows just how idiotic the Defence Review was
Vast fleet of RAF planes delivers just 3 crap missiles
Those massive longhaul Tornado raids against Libya? They delivered just three or four cruise missiles of the hundreds it took to close down Gaddafi's defences
Thus these days, unless we possess Stealth aircraft (hard to see on radar if used right – only the US has these) we normally prefer to tackle defended targets situated within a radar/missile defense net by shooting cruise missiles at them. A cruise missile is basically a robot jet aeroplane which flies in low like a Tornado and then crashes on the target, blowing it up. Risk to our people is avoided, and of course getting shot down while outbound isn't an issue.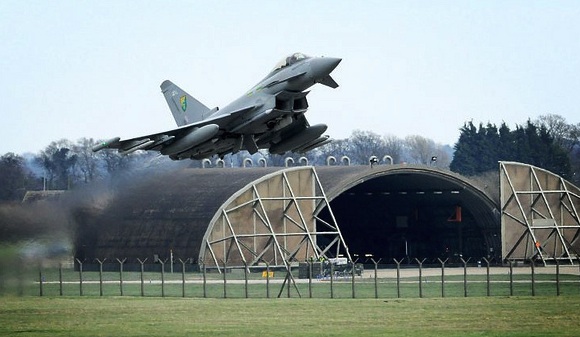 This bloke? Not so much
We are told in official announcements that some 112 Tomahawk cruise missiles were used in the initial strike at the weekend, launched from US and British warships and submarines off the Libyan coast. We are also told that "a number" of Storm Shadow shorter-ranged cruise missiles were launched from Tornado bombers. The Tornadoes had flown 3,000 miles from Kent Norfolk to do so, requiring the aid of repeated air-to-air refuelling assistance both on the way out and on the way back.
We can be pretty sure what the unspecified number of Storm Shadows was, as the Tornado can carry only one Storm Shadow into combat and we are told that a total of four Tornadoes have been assigned to Operation ELLAMY, the British contribution to the Libyan fighting. Some accounts suggest that in fact only three Storm Shadows were fired in the initial long-range Tornado raid.
Later in the weekend the Tornadoes launched another massive longhaul mission from the UK but this was aborted due to the presence of civilians in the target area – although there is some suggestion that a Storm Shadow may have been fired anyway. More Tomahawks were also launched from naval units off the coast.
Following the weekend cruise missile barrage of 112 to say 200+ Tomahawks (and three or four Storm Shadows) we were told that "the Libyan air force no longer exists ... we can operate in Libyan airspace with impunity".
Subsequently some more Libyan air-defence targets appeared – it would of course be a normal tactic to keep some radars switched off at first, mobile missile batteries hidden etc. Nobody bothered waiting for bombers to trundle in across Europe this time, however: more Tomahawks were launched from just off the coast and the targets were silenced.
It has been widely noted in the press that Tomahawk missiles are expensive: the most recent batch purchased by the UK cost about £1m each, though the Americans (buying in bulk) get the earlier models for around £300k. The Tomahawk is very cheap compared to the Storm Shadow, however, which has cost the UK approximately £2m a pop – despite being short-ranged and thus needing a Tornado to carry it much of the way.
Point three: there was no point at all in mounting the Tornado Storm Shadow missions, which made a negligible contribution to the suppression of Libyan air defences (quite likely zero, if the missile's performance during the Iraq invasion was repeated1). We should never have bought Storm Shadow and may as well dispose of it now – we should certainly not, as is planned, squander large sums fitting it to the Eurofighter as well.
Our lesson from a shooting war against a national air force – the first we have fought since 1982 – is that you don't suppress enemy air defences of the sort you actually meet in the real world with deep penetration bombers and air-launched weapons (far less with stealth planes). You do it with AWACS and Elint planes and Tomahawks launched from the sea.
The pointlessness of the Tornado in the initial Libyan story is also interesting, as the decision in the recent review to scrap the highly popular Harrier in order to keep the Tornado was highly controversial.
But hold on – our four Tornadoes are now based in Italy (at Gioia del Colle on the Gulf of Taranto) now armed with Brimstone tank-buster missiles and smart bombs rather than Storm Shadow. Now they will prowl the skies above Libya, picking off Gaddafi's armour and generally giving the rebels help wherever they can do so without killing innocent bystanders. They may also provide airborne surveillance and spyeye capability with their "Raptor" recce pods.
Unfortunately in order to do so they will have to fly in 700 miles across the Mediterranean to reach the contested regions, then out again, meaning that our airmen will spend more than half their flight time above the sea, not above the battlefield. Again, frequent aerial refuelling will be a necessity to make this possible at all; this will also be the case with no-fly-zone enforcement by Eurofighter Typhoons.
Why only four Tornadoes in Italy? The RAF has no less than 136 of them, after all – though admittedly there are also eight Tornadoes deployed to Afghanistan.
This is very interesting too, as well-connected sources tell us that "even the Afghanistan operation alone was viewed, as long ago as 2009, as getting near the prolonged deployed limits of the Tornado force ... Maintaining a long-term presence in both Afghanistan and the Mediterranean may mean postponing June's squadron cuts".
The planned June cuts resulting from the Defence Review mean reducing the fleet from 136 to 100. In other words the RAF is contending that it requires more than 11 Tornadoes to keep one in the field. The former Harrier force was able to keep at least one in seven of its jets flying combat: and it was better for operations in Afghanistan - not least as it was capable of getting off the runway there without occasionally running off the end and being destroyed. The Harrier could even carry Storm Shadow, assuming you actually wanted to do that for some reason.
Sponsored: Minds Mastering Machines - Call for papers now open