Yakuza 4
Gangster wrap
Character assassination
Akiyama's part in proceedings is, as I've already mentioned, only one section of Yakuza 4. Other characters to get their own chapter are: corrupt cop Masayoshi Tanimura; Taiga Saejima who has recently escaped from death row; and series stalwart Kazuma Kiryu, back to stand around looking moody once more. Each swap feels like a small loss, such is your eventual attachment to each character – it's a bit like in The Wire, when everything changes between series.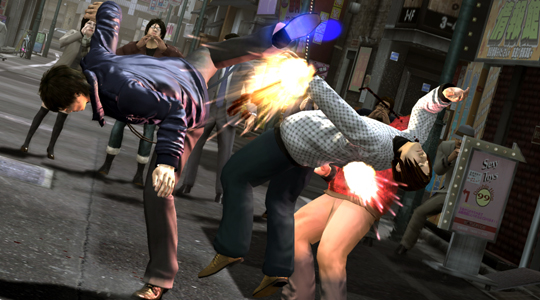 Fart lighting competition gets out of hand
The extra cast of characters is a vast improvement on Yakuza 3 though, enabling the writers to focus on more interesting and humorous story strands than those offered by the rather one-dimensional Kazuma Kiryu alone. A good thing too, given that cut scene lengths approach Metal Gear proportions at times (and all in subtitled Japanese). Each fighter also has his own fighting style, forcing the player to adapt to new techniques and freshening up proceedings.
With the game revolving around the fictional city of Kamurocho, you're free to roam the streets, roof tops and sewers, though navigation is irritatingly tough as the in-game map doesn't allow you to set nav points – why, Sega? The world also accommodates its fair share of gangsters, all after a piece of you. You can't walk ten yards down the street at times without being accosted by street thugs, hostile Yakuza and various disgruntled toughs. If this was the case in my home town, I'd think long and hard about moving.
Thankfully Kiryu, Akiyama, et al, are more than happy to go toe-to-toe with the city's resident heavies, with fights introduced much like rounds in Virtua Fighter and temporary arenas even formed courtesy of the crowds of disturbingly blood-thirsty bystanders. The key difference in the fighting here being that multiple combatants will attack you at once, armed with guns, swords, knives, you name it.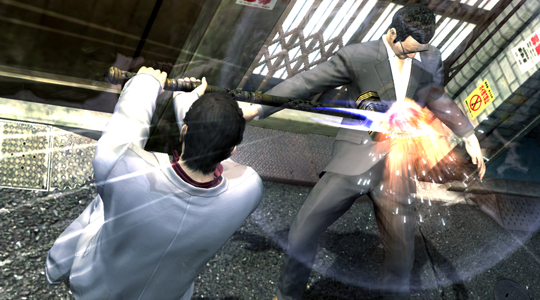 Fire in your belly
Crucially fights do entertain and you can pull off some gratifying combos which showcase Sega's mastery of the beat-'em-up. You'll get a lot of practice too, with an almost comical amount of damage needed to be dealt out before your foes succumb. Unavoidably then, fighting is of the 'ultra-violent' variety with many a pint of blood, and tooth, being lost as bikes are smashed over their heads, samurai swords unsheathed and more.
Sponsored: Minds Mastering Machines - Call for papers now open