Viewsonic 3DV5 HD 3D camera
Stereoscopic stills and video on the cheap
Stereo image
The Video Merge function allows you to string together clips, but with a distinct lack of thumbnail images, this was harder to organise than it needed to be. Click Next to save it to the hard drive or camcorder. The end result is an anaglyph conversion and there's no option to switch this off. I had thought it might default to side by side when sending it to the camera, but no, which is just daft.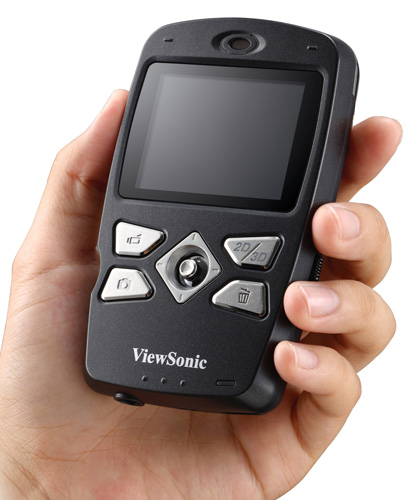 Delivers depth but its output is better suited to smaller screens
However, choosing to upload to YouTube will deliver the native side by side format. From your YouTube account you can choose to display the clips in a number of ways including YouTube's own anaglyph conversion options. The sample images includes a YouTube clip displayed as a side by side video, although not all 3D TVs are able to switch to 3D mode when playing on-line content.
If you've a 3D telly to hand then you can forget this ArcSoft mullarkey and plug in the Viewsonic 3DV5 using its mini HDMI port and away you go. When tested on the office Samsung UEC46000 3DTV the graininess of the lower light video was immediately apparent. Outdoor footage was an improvement, the digital zoom was predictably awful but a good deal smoother than some. Having taken footage at a gig, the sound proved to be a real disappointment as there appears to be no limiter, so even the most modestly amplified performances came out distorted. For everyday speech captured in normal environs, you should be OK.
Stills obviously don't suffer these audio issues and, in terms of overall image quality, were much better. The 3DV5 certainly delivers some depth and along with it entertainment value for those with 3D compatible gear. Viewing on a 46in screen is going to be rather unforgiving but if you switch to 2D capture on the 3DV5 the results show that it functions as quite a respectable stills and video camera.
Verdict
The Viewsonic 3DV5 isn't a fantastic camera, but it is rather fun and not as bad as its display might make you think. We're all so used to high-res screens that its less than dazzling lenticular offering takes a bit of adjusting to. You'll need to experiment to discover how best to frame shots that show off its perspective tricks, but the screen shows sufficient depth to help you get it right.
The battery life could be a lot better and the bundled software is in need of refinement, but does enough to help those without 3D displays to produce anaglyph stereoscopic images. But really, it's the owners of 3D kit that this is aimed at, and while it doesn't lend itself too well to being displayed on a large TV, for viewing on a 3D computer screen or picture frame, the 3DV5 will certainly make your stills and video stand out. ®
More Camcorder Reviews

Panasonic
HDC-SD900
Cisco
Flip Mino HD 8GB
GoPro
HD Hero
Veho
Muvi Atom
Sony Bloggie
MHS-PM5K
Sponsored: Minds Mastering Machines - Call for papers now open

Viewsonic 3DV5 HD 3D camera
Cheap and cheerful 3D HD video and stills camera.