Viewsonic 3DV5 HD 3D camera
Stereoscopic stills and video on the cheap
Double vision
There are two 5Mp 1/2.5in CMOS sensors in the Viewsonic 3DV5 and yet the on-screen impression you get is of a webcam which may well put you off persevering with this as a potential investment. However, there is a sweetspot when viewing and you eventually adjust your expectations and appreciate what this relatively low-cost camera is endeavouring to deliver. Sure, it's fixed focus and its 4x digital zoom soon becomes a bleary watercolour, but it does have a certain something, you just have to learn its limitations.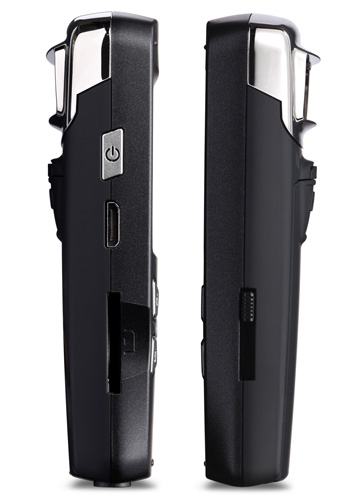 The exposed ports are a bit of a worry
Talking of limitations, being a fixed focus camera, you're not going to get great close-ups of physical attributes should testing its capacity to convey charming contours capture your imagination. In fact, most 3D cameras struggle with anything closer than six feet, so the 3DV5 is hardly unique in this respect. The lenses are also a narrower distance apart compared to human eyeballs, so there is a trade-off in terms of depth too. Out of 3D mode, in a good light you can move in a bit closer, but the quality remains on a par with a decent phone cam.
Charging is from the USB port only and takes about 45 minutes. Viewsonic claims an hour of 3D video shooting from a charge and if you limit your on-screen playback times, you should be able to get close to this. In the box, the CD only contains a PDF manual and AviDecode tucked away. Like the Flip, the software proper is retained in the camera itself, but unlike the Flip, it's ArcSoft TotalMedia HDCam for 3D v2.03.33, which is for Windows PCs only.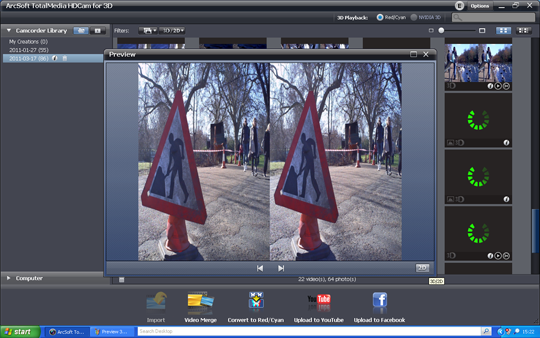 Preview 2D option: image pair – note the missing thumbnails on the right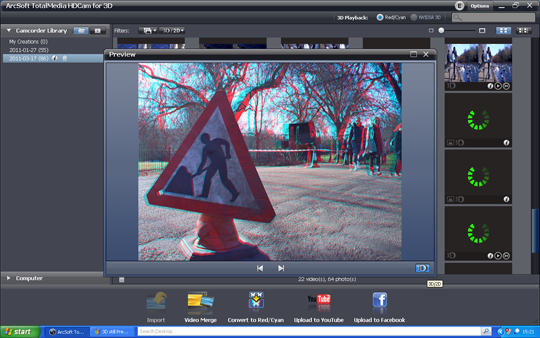 Preview 3D option: anaglyph mode
Along with the soft pouch, wrist strap, USB extender lead and mini to standard HDMI cable (nice touch, thanks), there's a pair of anaglyph 3D glasses. Yes, those red and cyan lens jobbies. I have mixed feelings about this, as will anyone punting the current generation of stereoscopic technology. However, Viewsonic sees it as a means to an end, because even though ArcSoft's TotalMedia HDCam supports Nvidia's Vision Kit 3D hardware, it also has the red/cyan option for those who really have run out of options.
Running ArcSoft TotalMedia HDCam seemed promising at first, however, it failed to created thumbnail images for about half the imported stills and video. For 3D images, the software provides either side by side or anaglyph previews (it defaults to the latter) prior to any movie or image conversion you might be tempted to perform before embarking on the YouTube and Facebook upload options. There's a video merge feature plus in and out marking for editing. Just click OK and a new file is created. Shame there's no undo though.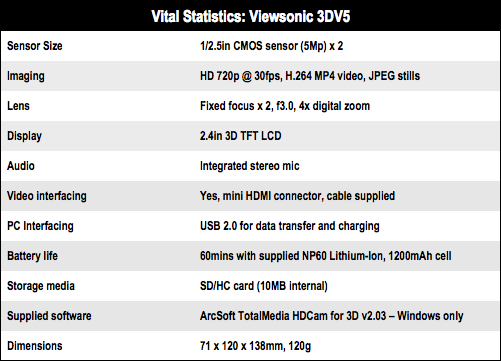 Sponsored: Minds Mastering Machines - Call for papers now open