How Microsoft uses Visio
case study
Microsoft uses Visio for organisational charting, and in addition is using Visio 2010 to document human resources (HR) business processes for Microsoft International, with 600 employees in more than 100 countries.
HR processes varied widely and inducing new staff was costing different amounts in different places. To save costs and avoid reinventing the wheel Microsoft decided last year to standardise using a range of tools, including Visio 2010.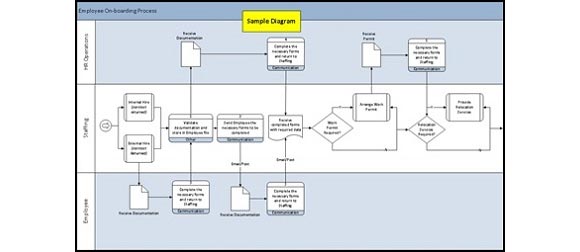 Jean O'Connor, HR project manager at Microsoft International, says: "Without documentation each new HR employee would need to be trained by someone who may or may not know the process. It was inefficient and could introduce errors."
The team worked with Microsoft partner Visimation to develop an HR template based on the business process modelling notation capabilities in Visio 2010 Premium. A special template (One HR Process Map shapes shown here) was created in a week, with a modified symbol set and a small add-in that numbers shapes as they are inserted into a diagram.
From the template, training content was developed for sales, marketing and services to enable local teams to develop standard processes (New Hire Process shown). This allows them to take into account local regulations, visas and so on, while still following a standard procedure.
"We chose Visio because it was easy to model the process training efforts and involved minimal training since it has a similar look-and-feel to other Microsoft Office applications," says O'Connor.
An additional benefit was greater familiarity with Visio. O'Connor says the new Fluent User Interface has made it much easier for novices to use the software. The drawing validation feature in Visio 2010 also became essential in ensuring that maps conformed correctly.
Sponsored: Minds Mastering Machines - Call for papers now open