Motorstorm Apocalypse
Hit the quakes
Hardcore gaming
It's an overly prescriptive progression system, one which feels forced to provide a chronology for Apocalypse's bizarre, crayon-sketched narrative. Played out in cardboard-cut-out-style comic-book cutscenes, which look like a post-apocalyptic Captain Pugwash, the story follows – rather handily – a novice, pro and veteran racer through the 39 race events over three days of the disaster.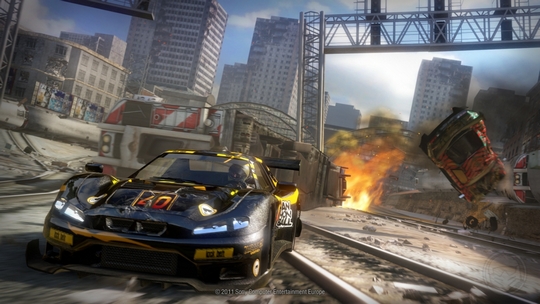 Off the rails
Despite being incoherent and utterly superfluous to the experience, however, these cutscenes do at least imbue Apocalypse with a distinct character that helps punctuate its linear progression. Once you've completed the six-or-so hours of Festival mode, Apocalypse offers up Hardcore mode, which allows individual Festival races to be re-raced against tougher, faster competition, and times to be uploaded to the PSN leaderboards.
If you're looking for tougher opposition still, a comprehensive multiplayer allows up to sixteen players to compete on customisable rides with FPS-style loadouts and perks. There's even an integrated progression and betting system, where chips can be spent on player tags and vehicle decals, or bet on future performances. These additions – and an increased significance to boost cool-down – elevate Apocalypse's standard gameplay through greater tactical depth, helping compensate for the disappointing vehicle balance.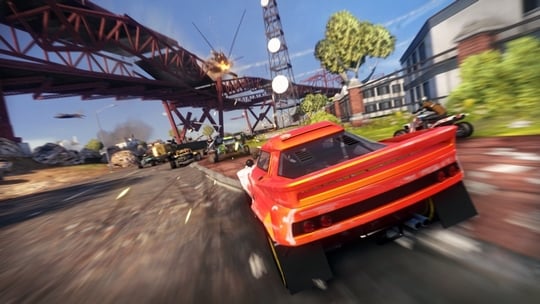 Blown cover
Verdict
Given the recent disaster in Japan and the game's graphic depiction of a cataclysm, it feels a touch insensitive to be hurtling around a virtual disaster zone enjoying oneself when so many have tragically lost so much. It's to Sony's great credit, then, that it has taken the 11th hour decision to delay the game in the UK. If you're in the hunt for an arcade racer when it's released in the coming weeks, however, and you're willing to overlook one or two shortcomings, there's a lot to enjoy in Motorstorm Apocalypse. ®
More Racing Games

Nail'd
Gran
Turismo 5
Need for Speed:
Hot Pursuit
F1
2010
Blur Vs
Split Second: Velocity
Sponsored: Minds Mastering Machines - Call for papers now open

Motorstorm Apocalypse
An arcade racer full of thrills and set-pieces whose multiplayer offering compensates for a few single-player shortcomings. Available on PS3 only.