Motorstorm Apocalypse
Hit the quakes
Shaking in your boots
Apocalypse's real novelty, then, is the earthquake and ensuing chaos. The city and environs are in a constant, violent state of flux – the driving line a perilously thin trail through a chewed-up and misshapen landscape. Landslides, tumbling skyscrapers, derailing trains, giant tornadoes and huge fissures in the tarmac are just a few of the jaw-dropping disasters looming on the tautly engineered road ahead. No wonder, then, that Apocalypse falls victim to verisimilitude. A spot of luck might be welcome in a real disaster, but it's less so in a videogame when sharing equal billing with skill.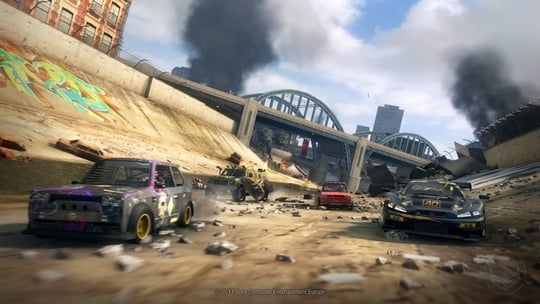 Go Grease Lightning!
An aggressive, closely-packed field, tracks bestrewn with debris and an over-zealous collision system that penalises brushing walls while overlooking physics-bending jumps and landings, means crashing becomes the norm rather than the exception. The series' infamously confused and often arbitrary respawn system remains unfixed, requiring you to press X after a full crash or Select when off-course or snagged in scenery. Worse still, Select rarely works when you're spun out and facing the wrong direction, forcing an agonisingly slow three-point-turn to right your vehicle.
The wide range of vehicles could be better balanced too. Although each provides distinct handling, Apocalypse's sweeping bends provide little opportunity to take advantage when cornering. The improvements made to motorbike handling in Pacific Rift are undone here, and, along with hatchbacks, motorbikes lack sufficient acceleration or top-end speed to compensate for their light weight, which leaves them at the mercy of heavier vehicles.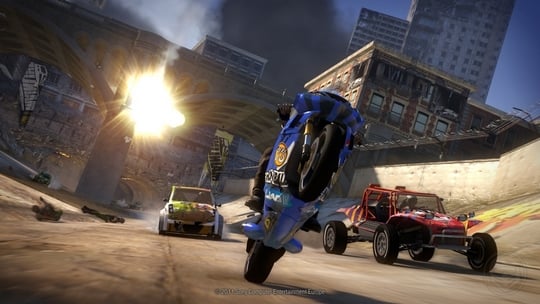 Wheelie good
Being forced to race these lighter vehicles in the default Festival mode introduces unwelcome spikes in difficulty, where you'll need a heavy dose of luck to progress. A standard mix of straight races and eliminator events, with the odd point-to-point time trial thrown in for variation, subsequent races are unlocked in strict sequential fashion by finishing in the top three. So, unlike the Grand Turismos and Forzas, there's no room to temporarily sidestep occasional impasses.
Sponsored: Minds Mastering Machines - Call for papers now open