Motorstorm Apocalypse
Hit the quakes
Review Motorstorm Apocalypse's unabashed and riotous disregard for realism is the antithesis of most modern racing games – and it makes perfect sense. Who cares about traction control, sports intake manifolds and torque splits when you're taking a high-octane tour through the picture-postcard backdrops of the apocalypse?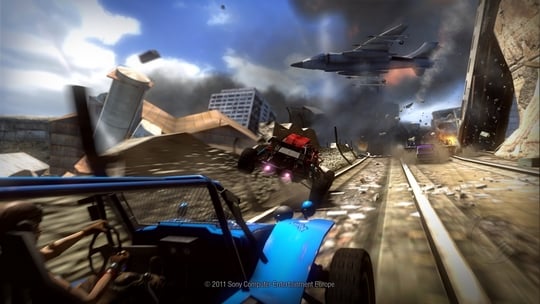 Low fly zone
Having exhausted the stock locales of deserts, tropical islands and Arctic tundras in previous entries, developer Evolution Studios stages its latest arcade racer amid the cataclysm of a megaquake ripping apart a fictional West Coast American cityscape.
Where most would flee the catastrophe full-throttle towards the mountains with loved ones, a fully automatic rifle and a boot-load of tinned baked beans, the Motorstorm racers – a motley crew of sociopathic adrenaline junkies – go all Bodhi, choosing instead to race through the once-in-a-lifetime disaster.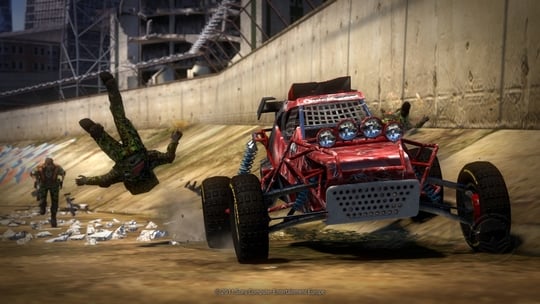 How many points for pedestrians..?
With alternate pathways, extreme verticality and a wide range of vehicles, from dune buggies and motorbikes to V8 muscle cars and monster trucks, Apocalypse will be instantly familiar to veteran Motorstorm players. Even Pacific Rift's boost and cool-down system returns unchanged, providing additional tactical depth by forcing players to ease off the throttle in mid-air and search out water while avoiding pockets of fire in order to cool down the vital turbo boost.
COMMENTS
Carmageddon
by any other name?
But do you get a cunning stunt bonus?
So....
Is this like the vehiculated sections of Half Life 2 with more cars and less Alyx Vance?
says:
Whilst I wouldn't buy this game, I think I could be tempted to shell out to see a post-apocalyptic Captain Pugwash.