Sapphire Edge HD
The world's smallest mini PC? Maybe
The sound of silence
Of course, with Linux distros freely available, many people will want to avoid handing over money to Microsoft. With this in mind, I gave Ubuntu 10.10 a go and, at first glance, everything appeared to be working normally.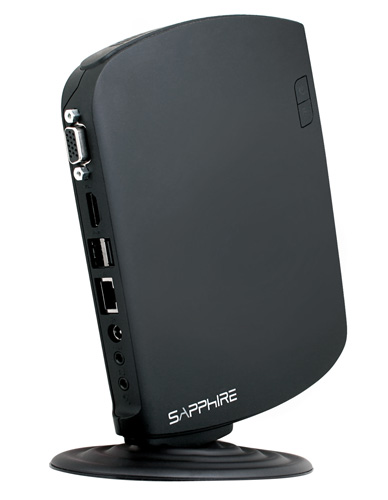 It doesn't look this neat when all the cables are plugged in
However, when I fired up Boxee to watch some HD movies, I discovered that the HDMI output was refusing the carry audio. I spent some time trying to fix this since it worked fine in Windows 7, but to no avail. The analogue audio jack functioned normally, but that's not much good for those looking for 5.1 surround sound.
This left me wishing Sapphire had taken the time to preinstal Ubuntu (or some other free OS) and configure so that everything is working as it should. If I buy a PC – Windows-based or otherwise – I want to be able to use it within minutes of unboxing. What I don't want is to spend hours trawling the Internet, going down dead-end after dead-end in an effort to get it fully working.
There are some other issues, as well. There's no remote control included, for example, and I found it a little too easy to accidentally bash the power button and hurl the PC into standby mode. With no visible screws, it also doesn't lend itself to DIY upgrades.
Verdict
Super small and quiet, there's plenty to like about Sapphire's miniature Edge-HD, but I think it's over priced. The entry-level Dell Zino HD 410, for example, is just £50 more expensive and comes with a faster AMD II X2 V160 processor, built-in optical drive and a copy of Windows 7 Home Premium. It's not nearly as compact as the Edge-HD, but it sure makes Sapphire's effort look a little expensive. The fact Sapphire hasn't bothered to preinstal a fully-functional OS also leaves a bad taste in the mouth. ®
More Desktop PC Reviews

Dell
Inspiron
Zino HD 410
Acer
Revo
RL 100
Apple
iMac
21.5in
Sony
Vaio
L13
Apple
Mac
Mini

Sapphire Edge HD
Sapphire ditches AMD to create (possibly) the world's smallest PC.