Sapphire Edge HD
The world's smallest mini PC? Maybe
Performance charts
In the past, Sapphire has been one of AMD's strongest and most loyal partners. It's therefore something of a surprise to find the Edge-HD is powered by a processor from Intel and graphics from Nvidia. Unlike the recently-reviewed Dell Zino HD 410 with its triple-core processor, this Sapphire alternative is more modestly powered. An Intel Atom D510 running at 1.66GHz is at its heart, with 2GB of DDR2 memory to support it.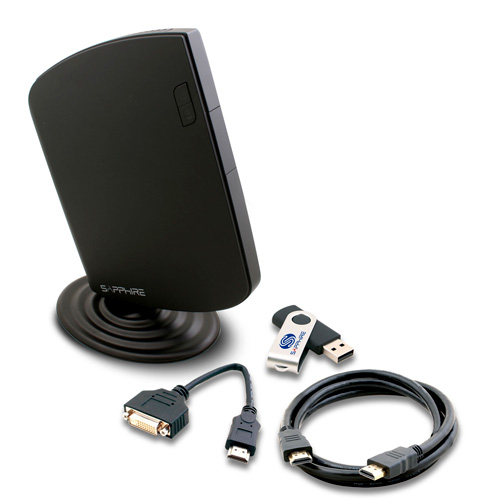 Bundled accessories include an HDMI-to-DVI adapter
Nvidia's ION 2 does the graphics work, but it's not up to gaming as the 5fps in Crysis at just 800 x 600 demonstrates. Still, 1080p video plays back smoothly, and movies looked great when hooked up to a 37in Sony TV. Frames are dropped on occasion, but you really have to be looking closely to notice this.
Benchmark Tests
PCMark Vantage Results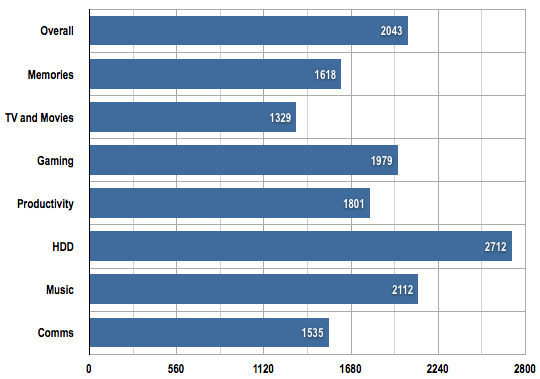 Longer bars are better
3D Mark Vantage Results

Longer bars are better
In an effort to keep the price in check, Sapphire has taken the decision not to preinstal Windows. FreeDOS is included, but I suspect most people will want to instal something a little more capable. With no built-in optical drive, I set about installing 64-bit Windows 7 Ultimate from USB.
There were no problems during the installation process and, once complete, I used the included USB stick from Sapphire to instal drivers for the graphics, LAN, audio and a few other devices. Having a clean installation of Windows without the usual bloatware found on new PCs was refreshing, and it booted in just over one minute. It also had no problem running multiple apps, including IE8 with a collection of tabs.