US CIOs: IT hires on the rise
Nowhere close to lawyer hires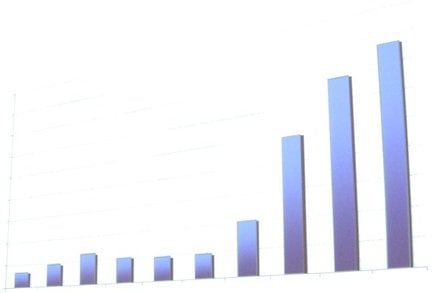 Robert Half Technology, the IT unit of the eponymous headhunter, says that CIOs are more optimistic about the prospects of hiring more people and doing more IT projects than you might otherwise think.
Every quarter, RHT surveys more than 1,400 CIOs at companies in the United States that have more than 100 employees and asks them what they are up to in terms of hiring, firing, and projects. This time around, when RHT was asking how the second quarter of 2011 was shaping up, the news was good.
Specifically, 9 per cent of CIOs told RHT that they planned to hire IT staff in Q2, with only 2 per cent saying they would be letting people go. That's a net 7 per cent increase in hiring by company count, which is a lot better than the net 3 per cent in hiring in the fourth quarter of last year when RHT asked CIOs what they had done. Net hiring percentages were on the rise in 2010 but fell a bit in the fourth quarter of last year, and the gap fell to a net zero hiring rate across companies at the end of 2009. Net hiring was 5 per cent in the first quarter of this year.
Back in Q4 2008 and Q1 2009, by comparison, CIOs reported a net 8 per cent rise in hiring, with 11 or 12 per cent hiring and 3 or 4 per cent firing, respectively. We're not quite back to normal, of course, but things are moving in the right direction. That was just as the Great Recession was getting into a full roar in the States. In December 2007, just as the recession was getting going, RHT's IT Hiring and Skills Report, which you can see here, indicated that 20 per cent of CIOs were hiring and 3 per cent were firing.
In the survey for Q2 plans, 84 per cent of the CIOs polled by RHT said they were pretty confident about their company's prospects for growth in the coming quarter, and half of them were optimistic or very optimistic (that's a 4 or a 5 on a 5-point scale) about increasing investments in projects in the second quarter. (Of course, this survey was done before the earthquake and tsunami in Japan and whatever effects it might have on the US economy.)
These CIOs report that security and networking personnel are in high demand, cited by 13 per cent of CIOs as being the most sought after skills they have on their employee wish lists. Application development coders were cited as on the top of their hiring list by 11 per cent of respondents, and help desk/tech support were at the top for another 10 per cent of CIOs. Hiring is strongest in the finance and real estate sectors, and the wholesale and healthcare industries are almost as strong, according to RHT.
So how does IT hiring stack up to other professions. Well, better than most where Robert Half has headhunting services, but not quite as good as lawyers, as you can see: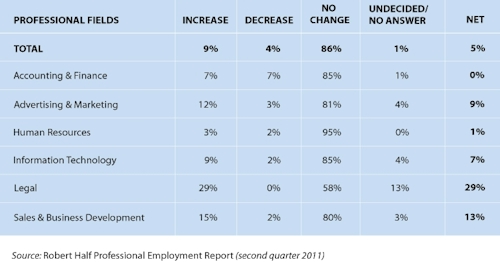 Advertising and marketing employee hiring is also better, and so is sales and business development. Look at it this way, at least there isn't much action in human resources, so maybe they will leave you alone. ®
Sponsored: Minds Mastering Machines - Call for papers now open