Dell Inspiron Duo
Flip your lid
Rotary watch
Of course, that trick screen mounting has an impact on weight and size. At over 1.5Kg the Duo is three times as heavy as an Archos 101 and, at nearly 30mm, it's well over twice as thick. A single-handed hold the Duo is not, so don't expect to use it as an e-book reader. Still, it does have an accelerometer, so swapping from landscape to portrait is simply a case of turning it on end.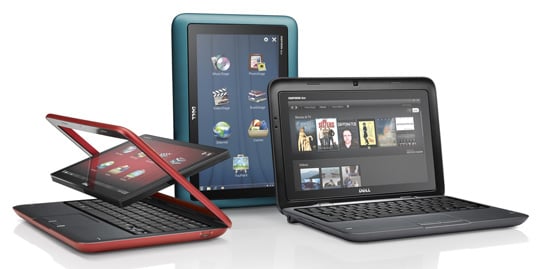 Designed for convenience with additional interfacing as extras
Another area where the Duo gives a lot away to the tablet brigade is battery life. Repeating a standard definition H.264 video at full screen using VLC, the Duo's built-in 4-cell power pack managed just 2hrs 45mins. That's poor even by netbook standards and atrocious by the standards of an Apple iPad or Samsung Galaxy Tab.
In more typical day-to-day use you can get around 3.5hrs from a charge. While not an issue if your Duo will spend most of it's time around the house or in it's dock, but certainly a potential problem if you want to take it out and about for extended periods.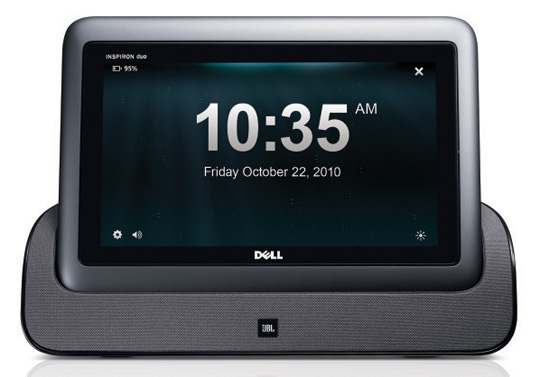 The optional Audio Station dock features additional connectivity, but for a price
Verdict

At £450, the Duo isn't cheap, but if you are already reconciled to spending £350 on something like a Samsung N350 then the extra hundred quid for the trick lid, touchscreen and the extra gig of RAM doesn't look like such a bad deal. The facility to swap between netbook and a tablet, from keyboard to touchscreen was something I started to appreciate when casually watching videos or surfing the web in my armchair, so Dell might just be on to something. Yet it's hard to overlook the missing ports, the poor battery life and the glacial performance of Stage. ®
More Netbook Reviews

Toshiba
NB500
Samsung
N350
Asus
Eee PC
1015PEM
Samsung
NF210
Asus
Eee PC
1215N

Dell Inspiron Duo
Windows 7 netbook-cum-tablet
Price:
£449 (250GB HDD), £479 (320GB), £529 (250GB + speaker dock) RRP