Altec Lansing inMotion Air wireless speaker
Dock-free zone
Apt solution
The Altec Lansing inMotion Air also manages to avoid the slightly muffled sound that afflicts many other Bluetooth speakers. As well as standard Bluetooth, the inMotion Air supports the Apt-X codec for improved stereo streaming – although your music source will obviously need to support Apt-X as well in order to use this feature.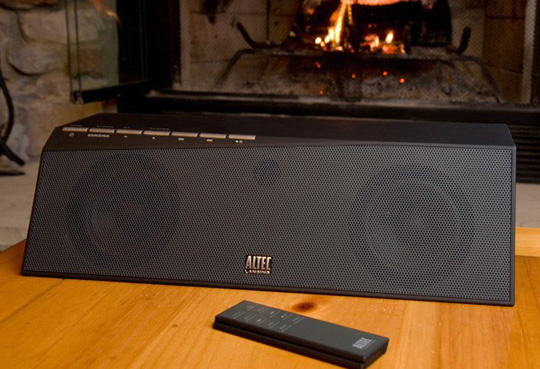 Supports Bluetooth and Apt-X streaming and there's a dongle too, for PC linking
The inMotion Air also includes a separate USB wireless transmitter that you can plug into a Mac or PC. The wireless transmitter has a range of 100m (300ft), compared to 10m (30ft) for ordinary Bluetooth, which will come in handy if you want to stick the speakers out in your garden for a BBQ and stream music from a computer indoors.
My only real complaint is that the fiddly little buttons on the remote control aren't as responsive as I'd have liked. However, the remote control can also be used to control iTunes on a Mac or the Windows Media Player on a PC so that you don't have to keep going back indoors to fast-forward to a different track.
Altec Lansing doesn't quote the output wattage, but the speaker is certainly loud enough for a bit of a barbecue boogie once you've had a few drinks. The built-in rechargeable battery lasts for about seven hours and, of course, it can run off the mains when you move back indoors.