Air ways
Altec Lansing also tells me that the USB dongle can be linked to two inMotion Air units, giving you the possibility of a multi-room speaker system for far less than rivals such as the Sonos ZonePlayer. Alas, I wasn't sent a second unit so that I could try this out.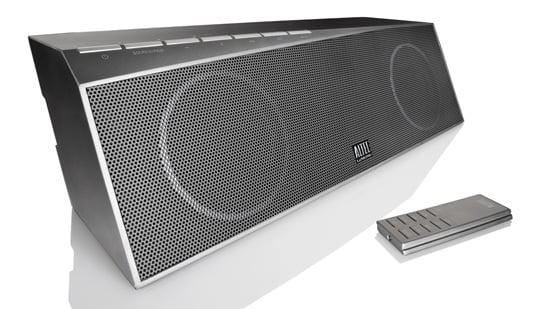 Pleasing on the eye and on the ear
Verdict
If you're specifically looking for an iPod dock then the inMotion Air is clearly the wrong choice. However, its semi-portable design and emphasis on wireless audio makes it a really versatile speaker system for use at home. Its audio quality using basic Bluetooth is very good, and also provides Apt-X future-proofing, while its additional USB wireless option means you can use it with a computer and even add in a second speaker unit in another room. I used it at a dinner party last weekend and it worked a treat. ®
More Audio Gear Reviews…

Denon Ceol
with Apple AirPlay
Arcam
Solo Neo
Onkyo
CS-545
Roberts
Stream 63i

Altec Lansing inMotion Air wireless speaker
A versatile wireless speaker system that you can use in any room.
COMMENTS
Make your own.
Being a proper geek, I made my own from a car amplifier & speakers off eBay, a computer PSU, a bluetooth receiver and a sheet of 12mm MDF.
I probably spent the best part of £100 on materials, but mine does have the advantage of being able to upset the neighbours 5 doors down.
How much?
OK, I'm not much of an audiophile, but I like a nice sound and don't mind paying for it. Still, £180 seems a bit steep. Are they REALLY that good, or is it the fact that it's relatively new tech?
I like the idea that you can stream from pretty much anything with bluetooth. If you have a party then folk can bring their playlists on their mobiles for a bit of variety.
Paris, 'cos I can't think of an icon.