Thinkflood RedEye remote for iOS
Gadget mastery over Wi-Fi and the web.
Review There are a number of apps and adaptors, such as the Gear4 Unity, which allow an iPhone to act as a universal remote control for your TV and other home entertainment kit. However, the RedEye from ThinkFlood is the most sophisticated remote control I've come across so far for this platform.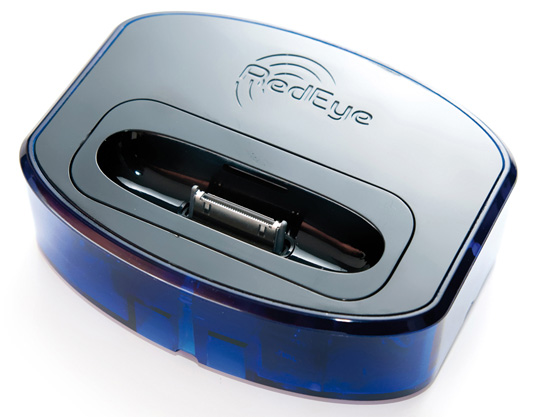 Remote possibilities: Thinkflood's RedEye
There are two versions of the RedEye available. I suspect that many people will be quite happy with the RedEye Mini, which is a simple infra-red transmitter that costs about £50. It plugs into the audio socket on the iPhone and allows you to beam commands directly to your TV and other devices. However, on test is the more advanced and thus more expensive RedEye Dock, which comes in at a hefty £204.
As the name implies, this model looks like a fairly conventional plastic dock that allows you to charge up an iPod or iPhone. However, the Dock unit also has an infra-red transmitter and Wi-Fi networking built into it.
This allows you to connect the RedEye Dock to an existing wireless network so that you can use your iPhone as a controller from any room in your home that has a Wi-Fi signal. So if the kids are playing Glee at full volume in the front room, you can exert your parental authority from a distance and turn the volume down from the kitchen.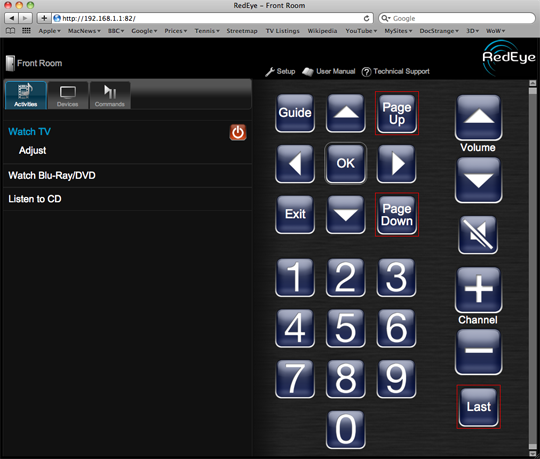 Remote functions can be controlled from a web page too
You can also control the RedEye Dock from any computer on your network simply by entering its IP address into your web browser. And, if you're au fait with the mysteries of VPN – virtual private networking – it's even possible to control the RedEye Dock remotely over the Internet too.
Sponsored: Minds Mastering Machines - Call for papers now open